The Tunisian knit stitch (abbreviated Tks) looks like knitting and is great for working fabrics where you want that knit stockinette look. You can also use this stitch in combination with other Tunisian stitches to add interest or dimension to a project. Alternate rows of knit stitch with a row of Tunisian Purl stitches like I did in this adorable Tunisian Blanket Pattern here. Or you can alternate stitches within the same row for a ribbed effect.
How to do Tunisian Knit Stitch
This stitch is super simple, and I've included step by step photos below to make it easy to follow along. Before beginning our Tunisian knit stitches, we need to first do a foundation row.
Foundation Setup
Use a Tunisian crochet hook to chain any number of stitches.
Foundation Row: Work a foundation row of a basic forward pass and return pass.

TUNISIAN KNIT STITCH Row
To work Tunisian Knit Stitch (or Tks), insert hook from front to back through the next stitch. Yarn over and pull up a loop. Make sure to pull the loop up to the height of your row for nice even stitches.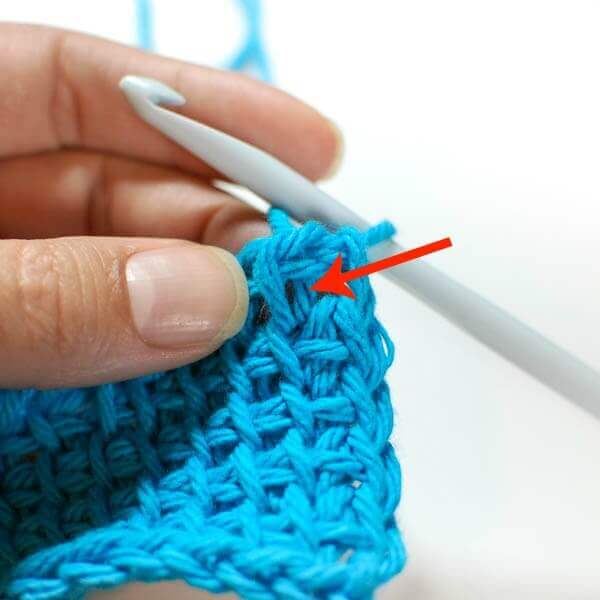 Repeat across stopping before edge stitch. For that last stitch, work under the front and back bars (the full 'V'). This will give you a nice finished edge.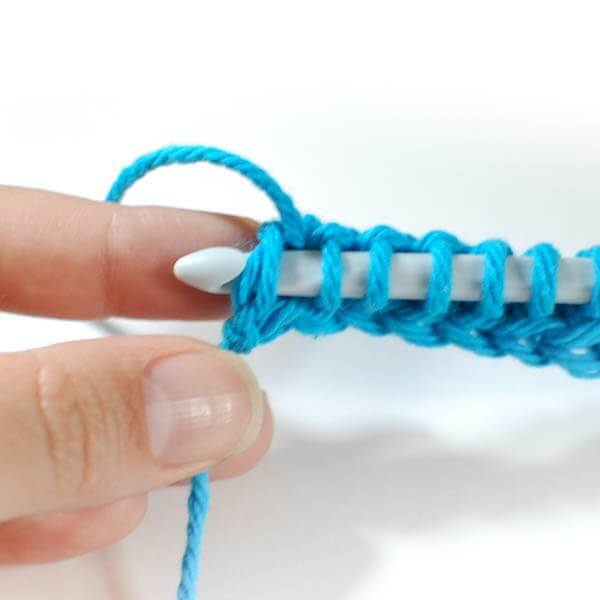 Work a basic return pass (that is, yarn over and pull through one loop, then yarn over and pull through 2 loops for the rest of the row until you have one loop left on your hook).
This is how 5 rows of Tunisian Knit Stitch look. See the difference in look compared to the Tunisian Simple Stitch rows on the bottom of the swatch?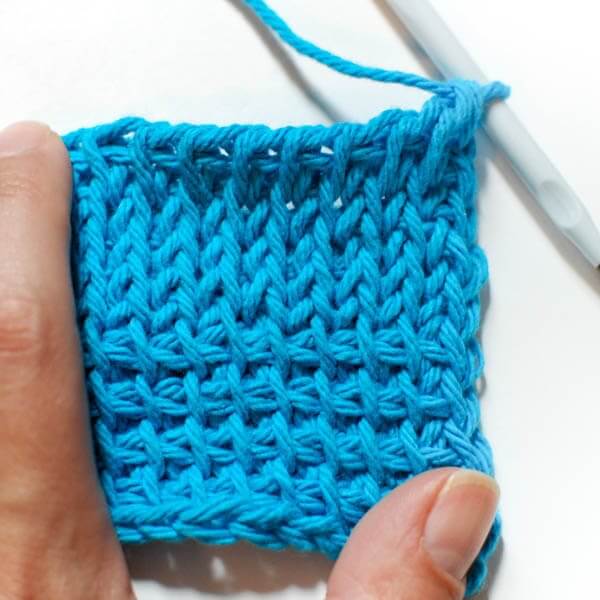 Isn't it amazing how much it looks like knitting?!
READY TO LEARN More Tunisian stitches?
Now that you've masted the Tunisian knit stitch, follow through the rest of the Learn Tunisian Crochet in a Week series or click on the specific Tunisian crochet stitch or resource you desire below …
Simple Stitch
Purl Stitch
Reverse Stitch
Tunisian Crochet Abbreviations and Symbols
Click here for free Tunisian Crochet Patterns.
YOU MAY ALSO ENJOY …