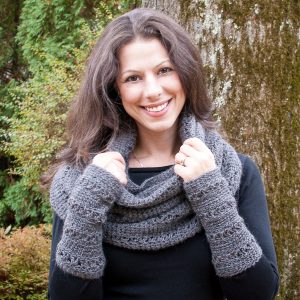 Hello my friend, my name is Kara Gunza. I am a crochet blogger, pattern designer, and instructor, sharing my knowledge and free crochet patterns here on PetalstoPicots.com!
What started as clumsy chain stitches by my Nonna's side has blossomed into a passion and business.
I have over 30 years of crochet experience and completed a Masters of Advanced Stitches & Techniques from CGOA. In addition to designing patterns here on PetalstoPicots.com, my work has been published in Baby Brights (2015, Lark Crafts Publishing) as well as in popular crochet publications such as Simply Crochet, Crochet!, Homespun, and Inside Crochet magazines.
As much as I enjoy sharing my crochet passion with others, nothing makes me happier than spending quiet time at home with my husband, our three great kids, and our energetic pup.
But that's enough about me … grab a cup of tea, look around, and find some crochet inspiration throughout these pages. Don't know where to go first? I've listed some reader favorites below to get you started … and be sure to subscribe so you never miss a post!
Sea Glass Crochet Afghan Pattern
Easy Crochet Hat Pattern … Great for Beginners!
4 Quick and Easy Crochet Dishcloth Patterns
Browse my full gallery of free crochet patterns here.
Happy hooking!

Whatever you do, work at it with all your heart,
as working for the Lord, not for men.
— Colossians 3:23 (NIV)
Every good and perfect gift is from above,
coming down from the Father of the heavenly lights,
who does not change like shifting shadows.
— James 1:17 (NIV)
Featured in …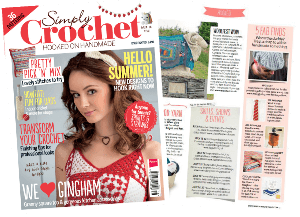 © 2011-2021 by Petals to Picots.
I love being able to share my ideas and projects, and I love when others love them enough to want to share them too! If you would like to share my patterns or projects, please refer to my Terms of Use for copyright details.
Additional Links:
Privacy Policy
Disclosure Statement