I can't believe it's March already! And I can't think of a more perfect design for the month than this lucky Shamrock Tunisian Crochet Dishcloth!
Just joining us? You can learn more about our Tunisian Dishcloth Crochet Along you can get all the details in my post here. And don't be discouraged if you have never tried Tunisian crochet; this is the perfect opportunity to learn! You can check out my free series Learn Tunisian Crochet in a Week.
Part of the fun of a crochet along is sharing our projects and encouraging each other along so be sure to share your dishcloths in the P2P Ravelry group, Facebook group, or on social media with the hashtag #P2PdishclothCAL so we can all see each other's projects.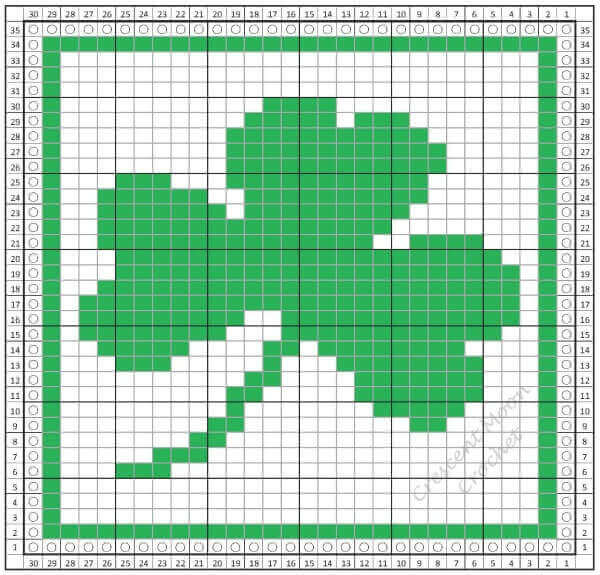 Hello all! March is the time of year when most of us think of St. Patrick's Day and/or March Madness. However, for me, I'm thinking about business tax returns that must go out by the 15th, making sure those returns not being submitted are extended, and completing the literally 1,000 plus personal tax returns by the April deadline. This can make me very stressed out and cranky. One of the things that I do to help me relax and get through the 14 hour days without snapping at a very rude client (true story :/) is to take a few minutes around lunch time and do a little crocheting. This month's pattern is one that I completed over the course of a few days during my few minutes of spare time at lunch. It's very festive and evokes a feeling of spring (even though as I write this it is 71 degrees and I have the window open). I hope everyone enjoys the pattern and please don't forget to post pictures of your finished projects!
P.S. Keep an eye out later this month for some bonus patterns!
Shamrock Tunisian Crochet Dishcloth
Here is what you will need:
worsted weight cotton yarn (approx. 82 yds)
J10/6mm Tunisian hook
scissors and yarn needle
Finished dishcloth measures approximately 8½ in. × 8½ in.
Tunisian Crochet Abbreviations (you can click on links to review the "how to" for each stitch):
Tks – Tunisian Knit Stitch
Trs – Tunisian Reverse Stitch
Ch 30.
Set up row: Pull up through the back ridge of each ch across — 30 sts (Noted as the first row of circles).
Work pattern as charted above taking note of the following:
• when working your forward pass, the loop on your hook counts as the first stitch (indicated as a circle in the chart)
• the last stitch is made through the two end loops of row below (also indicated as a circle in the chart).
• a basic return pass should be used throughout (i.e., yo, draw through 1 loop, *yo, draw through 2 loops, rep from * across).
• Row 35 should be worked as a bind off row; work Trs bind off (Noted as the last row of circles).
KEY: Circle = first/last stitch; Color = Trs; White = Tks.
Block finished dishcloth if desired (-> How to Block Knit and Crochet Items).
You can find all Tunisian Crochet Dishcloth patterns from our series here.