When I recommend blocking a finished knit or crochet item to my students, I'm often met with questions. What is blocking? Why do you block knit and crochet? and How should you block? So I thought it would be helpful to put together a little tutorial to explain just that … How to Block Knit and Crochet Items. And like my students, I am sure you will be amazed at the difference blocking can make to your finished projects!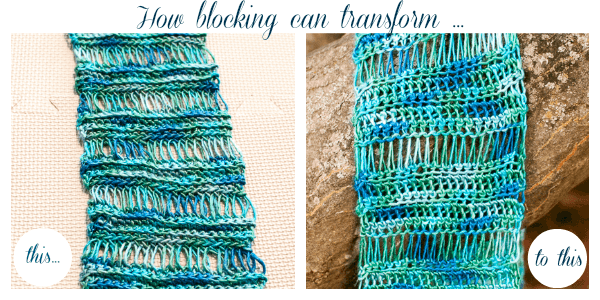 How to Block Knit and Crochet Items
What is blocking?
Blocking is the method of shaping your finished knit or crochet piece to your desired size and shape or to the dimensions noted in a pattern. It also helps open up your stitches to help make them look more even and defined. There are a few different methods of blocking. Some people prefer to fully saturate their piece in water, some just spritz and pin, and others prefer to use steam. I don't have a whole lot of experience with the steam approach so for the purposes of this tutorial I am just going to stick with what I know … wet blocking.
Why block?
Blocking an item definitely improves the look of the piece. As I mentioned above, not only does it mold the piece into its final shape and size, but it also helps enhance the stitches and leaves your piece with a more professional and finished look. It also helps conditions the yarn fibers and brings out the beauty of the yarn, especially if it was made with a natural fiber like wool, silk, alpaca, etc.
How do you block?
I wet block my items, which is essentially wetting your piece, shaping it, and letting it dry. But before beginning you should always check your yarn label … if a yarn calls for dry cleaning only, don't block it!
If you are making an item with multiple parts that will be pieced together, such as a granny square afghan or a garment, you can either block the pieces individually before sewing them together or piece them together and then block the item as a whole. I prefer to sew everything together and then block it, but it is really just a matter of preference.
Basic Blocking Supplies
As with any task, having the proper tools to do a job always makes it go more smoothly. You can purchase a Basic Blocking Kit online from a shop like Knit Picks or purchase a few items separately as needed. Here are the basic supplies you will need:
a small basin or spray bottle (depending on whether you are soaking your piece or just spraying it)
a tape measure (if you are blocking to a certain size)
clean, dry towels
blocking boards (or some kind of surface you can pin into)
your piece to be blocked
There are additional tools you may find you need depending on your project, such as Lace Blocking Wires, Sock Blockers, or multiple pin blockers for larger projects. All the options can definitely be overwhelming so if you want to see my top picks and comments, you can check out my Amazon faves page here.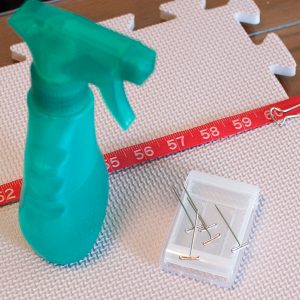 For some items, I find that spritzing with a spray bottle is all I need, but for heavier weight yarn or larger items I fully saturate the piece by soaking it in a basin with room temperature water and some wool wash.
Whichever approach you use, never use hot water because it can actually make natural fibers felt together. Although I love felting items, it is not always the result I am looking for. You can read more about felting here. I like adding wool wash because it conditions the yarn fibers and enhances the beauty of the yarn, especially with natural fibers … and they smell nice too! I prefer a wool wash like Soak that does not require any rinsing after soaking.
Once saturated (approximately 15 minutes or so), gently press out any excess water. Do not ever twist or wring out your piece! Don't be alarmed if you see some color in the water; some yarns, especially hand dyed yarn, can have some excess dye that releases during soaking. If your item is still very wet, roll the item between clean, dry towels to press out the water. Repeat with additional dry towels if necessary until your piece is just damp.
Next, ease your piece into the shape and size you want and pin it to blocking boards (or even a few layers of towels) to hold in place. For really lacy pieces you might want to try blocking wires instead of pins. All that's left is to allow it dry. This could be overnight or even longer depending on how wet your piece is or the humidity in your area.
Once dry, you are all set to wear or use!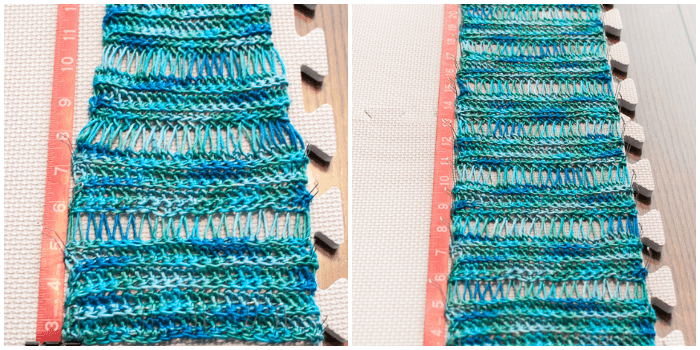 That's it … pretty easy, huh?! And you will be amazed at the transformation of your piece. Give it a try and share your before and after photos by tagging me on Instagram with the hashtag #petalstopicots.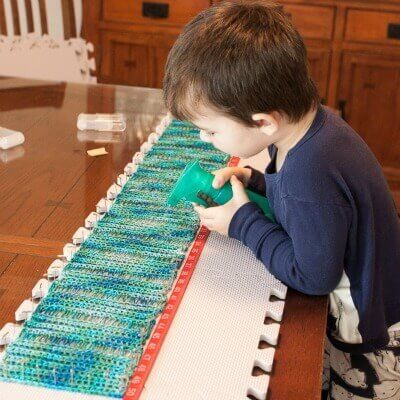 For more information on Caring for Your Knit and Crochet Items, click here.