I can't believe we are over halfway through the CAL! I hope everyone has been enjoying the CAL. This summer has been flying by, and with some pretty nice weather in my area. I have been so busy with graduation, a special visit from my sister and niece, and planning and throwing a baby shower, not to mention a little hand issue that has kept me from crocheting. I promise that I will get the June and July patterns posted on Ravelry soon.
The Fourth of July is almost here, and this month's pattern is perfect for crocheting in the hot weather of July. Working with cotton during the summer is great because it stands up to water and is lighter than wool. Take your yarn and hook to the pool and you can have this done in between dips to cool off!
Enjoy this month's pattern and I hope everyone has a safe and sparkly holiday!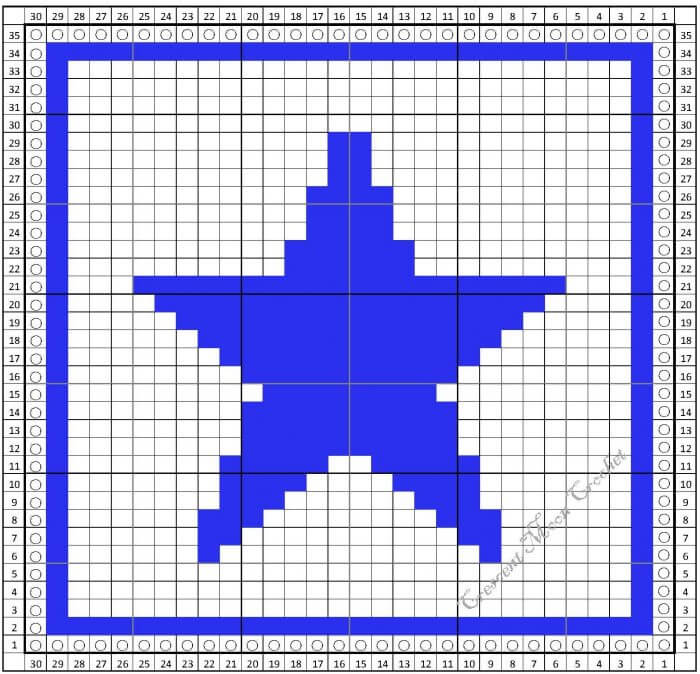 July Tunisian Crochet Dishcloth Pattern
Here is what you will need:
worsted weight cotton yarn (approx. 82 yds)
J10/6mm Tunisian hook
scissors and yarn needle
Finished dishcloth measures approximately 8½ in. × 8½ in.
Tunisian Crochet Abbreviations (you can click on links to review the "how to" for each stitch):
Ch 30.
Set up row: Pull up through the back ridge of each ch across — 30 sts (Noted as the first row of circles).
Work pattern as charted above taking note of the following:
when working your forward pass, the loop on your hook counts as the first stitch (indicated as a circle in the chart)
the last stitch is made through the two end loops of row below (also indicated as a circle in the chart).
a basic return pass should be used throughout (i.e., yo, draw through 1 loop, *yo, draw through 2 loops, rep from * across).
Row 35 should be worked as a bind off row; work Trs bind off (Noted as the last row of circles).
KEY: Circle = first/last stitch; Color = Trs; White = Tks.
Block finished dishcloth if desired (-> How to Block Knit and Crochet Items).
You can find all the patterns in our Tunisian Dishcloth Crochet Along by clicking here.
Click here for more free Tunisian Crochet Dishcloth Patterns.
And don't forget to share your finished dishcloths in the P2P Ravelry group, Facebook group, or on social media with the hashtag #P2PdishclothCAL so we can all see each other's projects.