I can't believe we are in the final stretch of our crochet along!! For Thanksgiving, we wish you a cornucopia of blessings and a dishcloth design to match.
If you missed any of the previous Tunisian crochet dishcloth patterns, you can always find them by clicking here. Let's get stitchin'!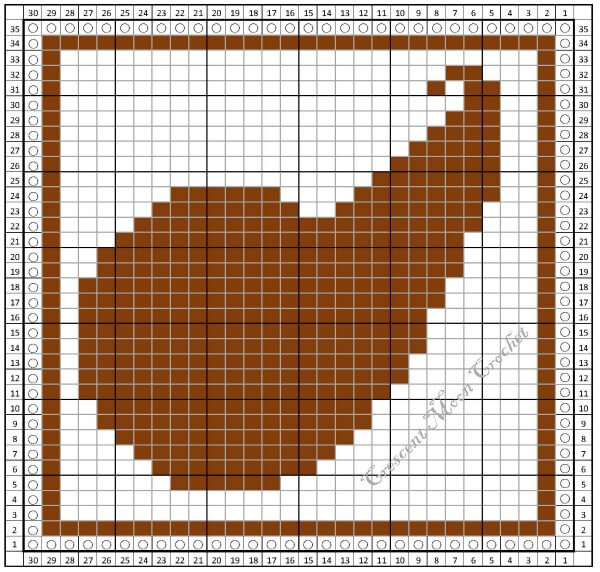 Tunisian CORNUCOPIA Pattern
Here is what you will need:
worsted weight cotton yarn (approx. 82 yds)
J10/6mm Tunisian hook
scissors and yarn needle
Finished dishcloth measures approximately 8½ in. × 8½ in.
Resources and tutorials you may find helpful in following this pattern: Tunisian Crochet Abbreviations and Symbols, Basic Forward and Reverse Pass.
Tunisian Crochet Abbreviations (you can click on links to review the "how to" for each stitch):
Ch 30.
Set up row: Pull up through the back ridge of each ch across — 30 sts (Noted as the first row of circles).
Work pattern as charted above taking note of the following:
when working your forward pass, the loop on your hook counts as the first stitch (indicated as a circle in the chart)
the last stitch is made through the two end loops of row below (also indicated as a circle in the chart).
a basic return pass should be used throughout (i.e., yo, draw through 1 loop, *yo, draw through 2 loops, rep from * across).
Row 35 should be worked as a bind off row; work Trs bind off (Noted as the last row of circles).
KEY: Circle = first/last stitch; Color = Trs; White = Tks.
Block finished dishcloth if desired (-> How to Block Knit and Crochet Items).
Find all the patterns in our Tunisian Dishcloth Crochet Along.
Click here for more Tunisian Crochet Patterns.