I love working up these crochet dishcloth patterns, especially in the summer. Crochet dishcloths are lightweight enough to be a great take-along project and work up quickly too. I find such satisfaction in making something pretty and useful in such a small amount of time! Plus, there is such a simple pleasure that can be had from using handmade dishcloths.
And don't stop at just one … they are also perfect to give as gifts! Add some scented soap or a wooden spoon set in a little basket and you have the perfect housewarming or hostess gift!
I hope you enjoy these quick and easy crochet dishcloth patterns! Bookmark this page or pin the image below so you can be sure to find the patterns again and again.
Crochet Dishcloths to Learn New Stitches and Techniques
Dishcloths are also great for practicing different stitches and stitch combinations. In fact, in my crochet workshops, once I'm done working with students through the Learn to Crochet Series, our first projects are dishcloths. I specifically designed these dishcloths to help my students learn new skills and techniques including
counting and identifying stitches
working stitch combinations
changing colors
working in the round
creating an edging
And you know what? These crochet dishcloths continue being favorite projects even after the skills have been mastered. So break out that cotton yarn and get stitching!
What You Will Need to Make Crochet Dishcloth Patterns
Each dishcloth requires …
4 Quick and Easy (and Free!) Crochet Dishcloth Patterns
You can find the link to the free pattern for each of these crochet dishcloth patterns listed underneath the image below. The patterns are also available as a convenient ad-free pdf for purchase here on Ravelry.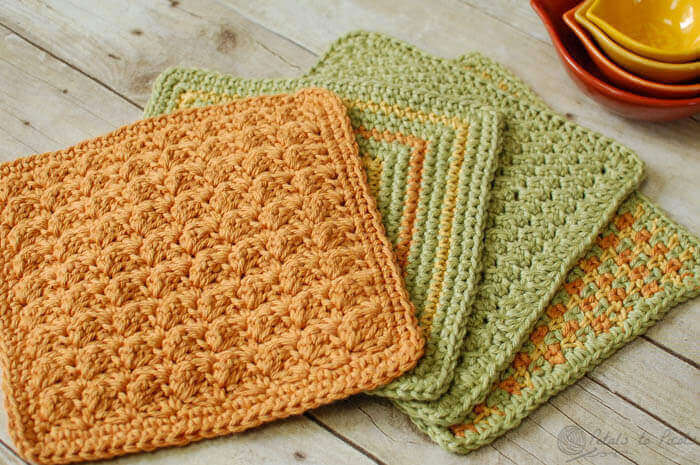 Above from left to right:
Three Color Simple Stitch Dishcloth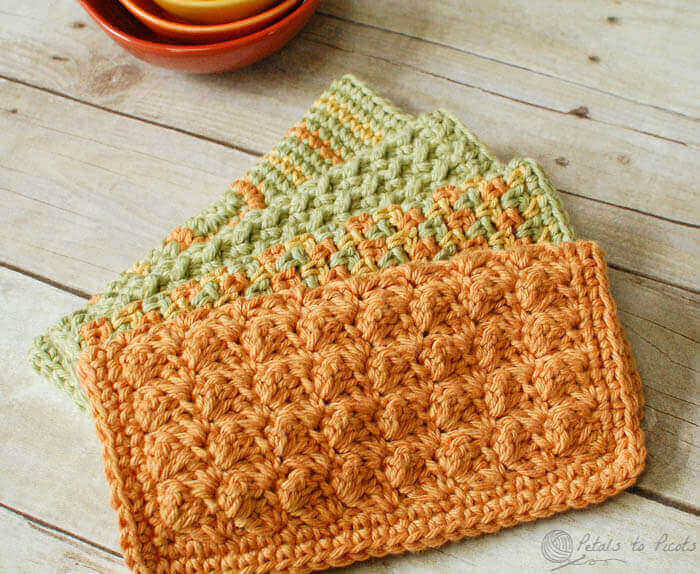 Ready for some more dishcloth patterns or perhaps another project to brighten up your kitchen? Click here for more Kitchen Crochet Patterns or click here to view my full gallery of Free Crochet Patterns.

you may Also enjoy …
Browse my full gallery of free crochet patterns here.