This crunchy stitch crochet dishcloth pattern features a fun and easy stitch that gives a great textured design. The pattern uses only two basics stitches, slip stitches and half double crochets, but when used in an alternating sequence the effect looks much more complex. Here it is along with the 3 other dishcloth patterns I gave you a preview of few posts back …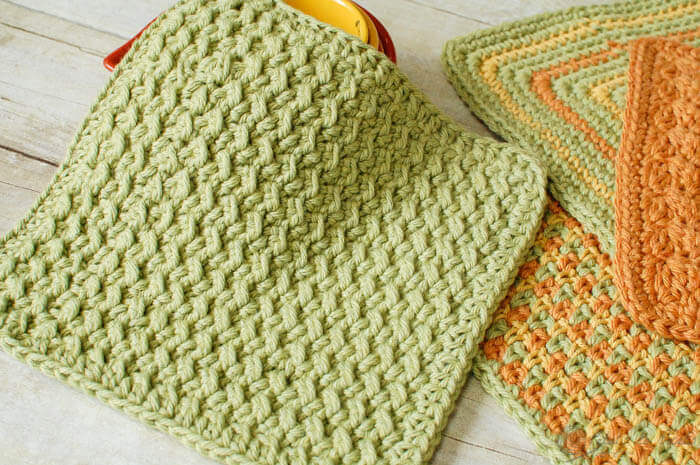 And here's a closer look at the stitch … isn't it awesome?! Let's get started on the pattern.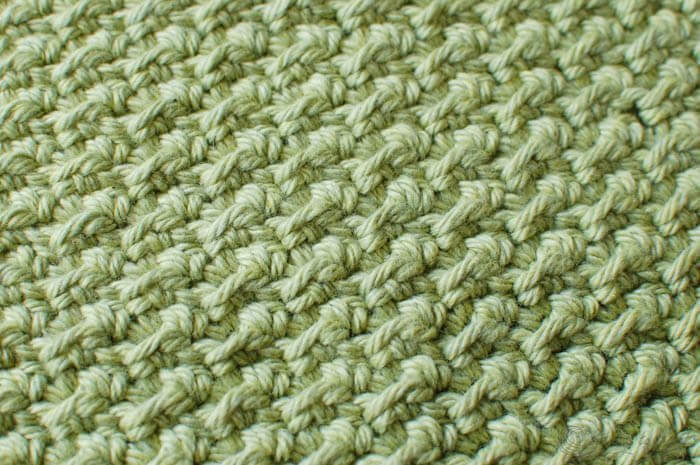 Crunchy Stitch Crochet Dishcloth Pattern
Here's what you will need …
Resources and tutorials you may find helpful in following this pattern: Crochet Abbreviations, U.S. to U.K. Crochet Conversion Chart, How to Make a Magic Ring, Crochet Stitch Chart Symbols.
Add this pattern to your Ravelry library.
Also available as a convenient 4 Dishcloth Pattern Pack on Ravelry here.
Finished washcloth measures approximately 8 inches square.
Ch 26.
Row 1: Sl st in 2nd ch from hook, *1 hdc in next ch, Sl st on next, rep from * across, turn — 25 sts.
Row 2: Ch 2 (counts as 1st hdc), *Sl st in next hdc, 1 hdc in next Sl st, rep from * across, turn — 25 sts.
Row 3: *Sl st in hdc, 1 hdc in next Sl st, rep from * across, Sl st in top of turning ch — 25 sts.
Rows 4 – 25 : Rep Rows 2 and 3 for pattern.
Row 26: Ch 2 (counts as 1st hdc), work 1 hdc in each st across, do not turn or fasten off — 25 sts.
Edging
Round 1: Work 2 hdc in same st as last hdc of Row 26, continue working a hdc edge around washcloth along next 3 sides, working 3 hdc in each corner. Join in top of beginning ch of Row 26.
Fasten off, weave in ends.
Now that you've finished the Crunchy Stitch Dishcloth, try ones of these fun dishcloth patterns … shown below from front to back: Textured Dishcloth, Three Color Simple Stitch Dishcloth, Crunchy Stitch Dishcloth (this post), and Seeing Squares Dishcloth. The patterns are also available as a convenient ad-free pdf for purchase here on Ravelry.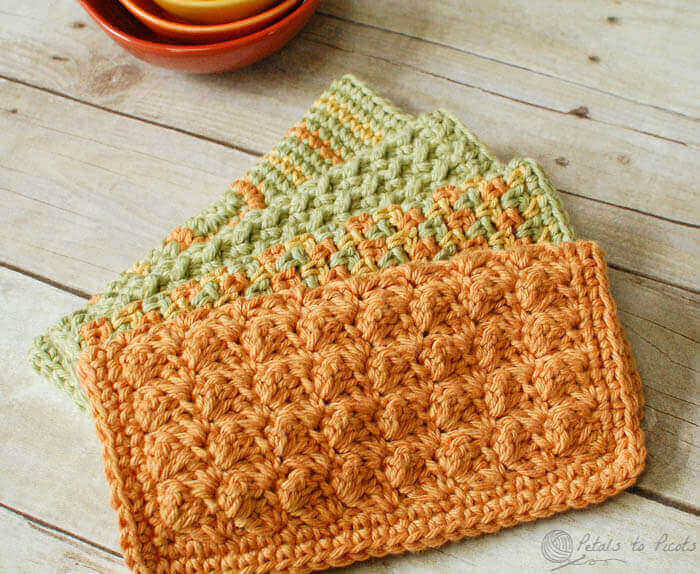 Click here for more kitchen crochet patterns.