I can't believe we have reached the end of our year long crochet along!! And what a great pattern to end on … this Christmas Tree Dishcloth. I hope you have enjoyed it as much as I have. I want to give a big THANK YOU to Megan for all her wonderful designs and for her generosity in sharing them with us. I am so glad you to have had you here throughout the year!!
And of course if you missed any of the previous Tunisian crochet dishcloth patterns, you can always find them by clicking here. Take it away, Megan!
****
Hello all,
I can't believe we are already at the end of another year. December is the time of year where my family gathers and catches up on all of the exciting milestones of the year and to celebrate the holidays. This year has gone by so fast and been very eventful for my family. This last pattern is a simple one that can evoke thoughts of the holidays or the crisp outdoors.
I want to thank Kara for the inspiration and hosting the CAL! I sincerely hope you have all enjoyed the CAL.
Tree Tunisian Crochet Dishcloth Pattern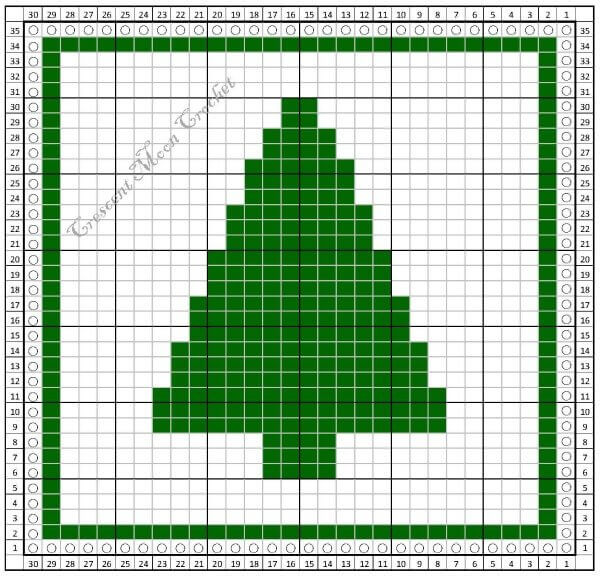 Here is what you will need:
worsted weight cotton yarn (approx. 82 yds)
J10/6mm Tunisian hook
scissors and yarn needle
Finished dishcloth measures approximately 8½ in. × 8½ in.
Tunisian Crochet Abbreviations (you can click on links to review the "how to" for each stitch):
Ch 30.
Set up row: Pull up through the back ridge of each ch across — 30 sts (Noted as the first row of circles).
Work pattern as charted above taking note of the following:
when working your forward pass, the loop on your hook counts as the first stitch (indicated as a circle in the chart)
the last stitch is made through the two end loops of row below (also indicated as a circle in the chart).
a basic return pass should be used throughout (i.e., yo, draw through 1 loop, *yo, draw through 2 loops, rep from * across).
Row 35 should be worked as a bind off row; work Trs bind off (Noted as the last row of circles).
KEY: Circle = first/last stitch; Color = Trs; White = Tks.
Block finished dishcloth if desired (-> How to Block Knit and Crochet Items).
You can find all Tunisian Crochet
Dishcloth patterns from our series here.
Click here for more Tunisian Crochet Patterns.