These hot summer days may not be tempting you to pick up your hook, but there are sooooo many quick and fun summer crochet project ideas to keep you inspired and stitching through the summer!
My criteria for picking the perfect summer crochet pattern is that it be lightweight, super portable, and bright and colorful. I have gathered together my top picks here as well as some reader faves. There is definitely something for every taste!
Summer CROCHET PATTERNS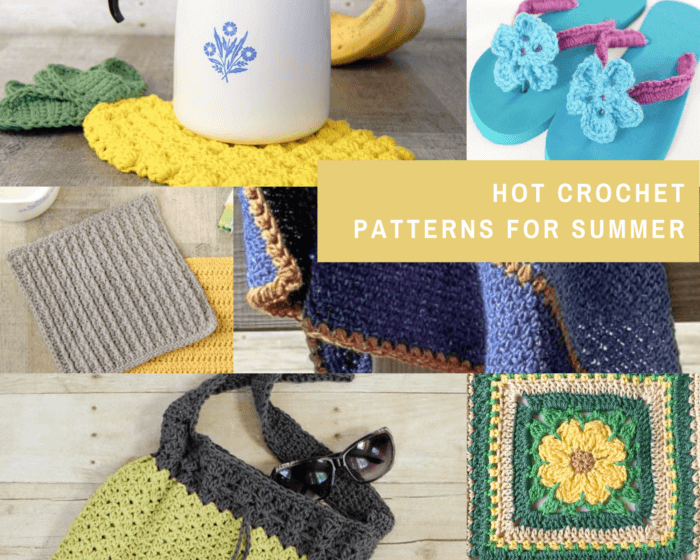 Pssst … are you a Petals to Picots subscriber? If not, you can sign up here to keep up with the latest crochet patterns and happenings.
Crochet dishcloths
Dishcloths are one of my personal favorites to work on in the summer because they are small enough to stash in your bag and take along on any adventure. It is so satisfying to make something so pretty and useful in such a small amount of time. You can check out all my free crochet dishcloth patterns here. There is a great mix of stitches and textures to choose from. This crunchy stitch dishcloth is definitely a reader fave!
Sunny Home DEcor
Sunshine and bright colors are a must for me this season. This pineapple hot pad is at the top of my list for summer decor! Or bring some of those beautiful garden views inside with this flower scrubby pattern.
Summer crochet accessories
Yes, sweater and scarf patterns might not sound very appealing right now, but there are plenty of summer accessories you can crochet. This summer tote pattern is one of my faves … it is lightweight and breathable and is great for daily errands or a day at the beach! I also find lightweight shawls, like this weekender shawl pattern here, a must for the season to ward off an air conditioners chill or throw over your shoulders on breezy summer nights.
Piece work and afghan squares
Afghans may not be at the top of your summer list but piece work projects are ideal this time of year! Work up some classic granny squares or granny hexagons and watch the stack grow. You may even have enough to piece together a nice size afghan come winter.
Baby gifts
It's always baby season! Crochet baby patterns are small and lightweight, making them ideal for this time of year. If you have an expectant mom in your life, it's the perfect time to start stitching. Baby hats are ideal because they are quick and easy to work up!
Holiday Decor
I know you're not thinking of autumn yet but it's right around the corner! Just another turn of the calendar will be bringing rust colored leaves and pumpkin spice everything. You will be all set with these adorable little pumpkins! Of course there's always Christmas decor but let's not rush things too much, right?!
Holiday Gifts
Although we don't want to rush the seasons, we do know that they can sneak up on us. If you have some special people of your gift list you would like to make something for, this is the perfect time to get started. This Inside Out Cowl is one of my favorite projects to gift. It is sooo quick and easy and looks amazing on.
Browse my full gallery of free crochet patterns here.