This Flower Necklace Crochet Pattern is light and fun and perfect for daytime and casual wear! Awhile back I shared with you a Flower Choker Pattern that I made for a wedding. I love wearing it but since I worked it up in black I usually reserve it for evening or more formal wear. So I worked up another in this pretty light blue color … Perfect!!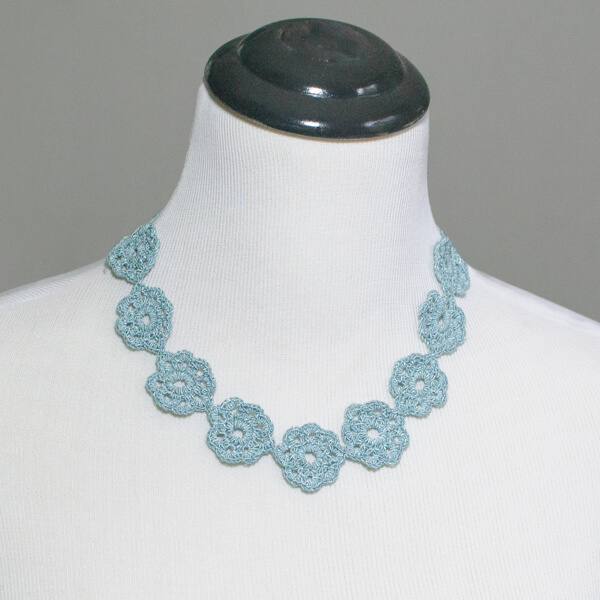 I love how versatile it is and how it can be worn with so many different necklines. By adding ties as I have done, you can vary the length of the necklace depending on your outfit or even wear it as a choker. I love the look of an off center bow … so on trend right now! Want to make your own? Scroll down for this Flower Necklace Crochet Pattern.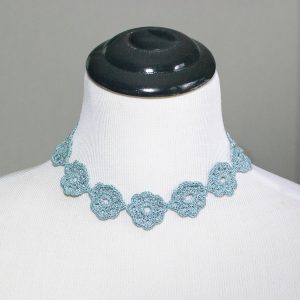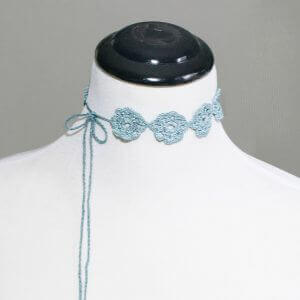 Flower Necklace Crochet Pattern
Here is what you will need:
approximately 30-50 yds Size 10 crochet thread or lace weight yarn (shown here in Katia Syros in the Blue colorway)
1.75 mm steel hook
Sewing needle and scissors
Resources and tutorials you may find helpful in following this pattern: Crochet Abbreviations, U.S. to U.K. Crochet Conversion Chart.
Available as a convenient, ad-free pdf download here.
Add this pattern to your Ravelry library.
Flower Pattern
I used the same flower pattern as in my earlier Flower Choker Pattern here, but I am including it again below so you don't have to click back and forth.
For a choker, make 9 or 10 motifs depending on how you like it to fit. For a longer necklace, just keep adding flowers until you reach your desired length.
Flower 1
Ch 6, join with Sl st in furthest ch from hook to form a ring.
Round 1: Ch 1 (does not count as st here or throughout), work 16 scs into ring, join in 1st sc of round — 16 scs.
Round 2: Ch 1, beginning in same st as join, *work [1 sc, ch 3, 1 sc], skip next st, rep from * 7 more times, join in 1st sc of round — 8 ch-3 spaces.
Round 3: Ch 1, work 5 scs in each ch-3 sp around, join in 1st sc of round — 40 sts.
Fasten off and weave in ends.
Flowers 2 and On
I join the flowers as I go using the join as you go (JAYGO) method. If you prefer to sew them all together at the end, you can just make all your flowers as above and skip down to the Finishing heading.
To use the JAYGO method, complete your first flower as indicated above. But for your second flower and each after that, repeat Rounds 1 and 2 as above but work Round 3 as follows:
Round 3: Ch 1, *work 5 scs in next ch-3 sp, repeat from * 6 more times, in next ch-3 sp [work 2 scs, drop loop from hook and insert into 3rd st of petal on the flower you want to join it to and pull through the loop, continue working 3 sc in same ch-3 sp], join in 1st sc of round — 40 sts.
Fasten off and weave in ends.
Finishing & Fastening
If you chose to complete all your flowers and sew them together at the end, do so now with a sewing needle and your crochet thread and sew them together through the midpoint of each adjacent petal.
To fasten this necklace, I crocheted two chains approximately 12 in. in length each and sewed them to each end. I love the look of a simple bow tied off centered on my neck or just hanging loosely down the back. If you prefer you can also attach a jewelry closure.