I felt like I needed a little something to liven up my outfit for wedding I was going to. I wanted something simple, yet elegant, and envisioned this pretty choker. These are the same motifs I used in the Flower Bracelet that I made here. I love how it came out!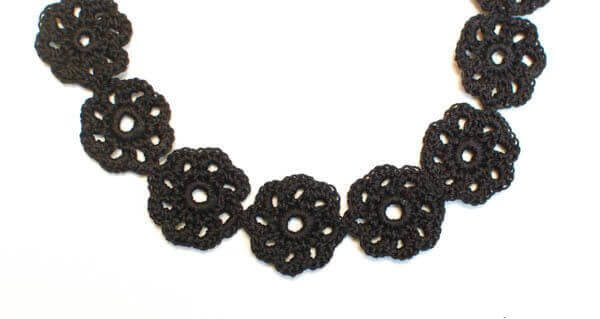 Crochet Flower Choker
Here's what you need:
Size 10 crochet thread
2 mm steel hook
Sewing needle
Resources and tutorials you may find helpful in following this pattern: Crochet Abbreviations, U.S. to U.K. Crochet Conversion Chart.
Add this pattern to your Ravelry library.
Make 11 motifs, or the number needed to obtain your desired length.
Ch 6, join with Sl st in furthest ch from hook to form a ring.
Round 1: Ch 1 (does not count as st), work 16 scs into ring, join in 1st sc of round — 16 scs.
Round 2: Ch 1 (does not count as st), beginning in same st as join, *work [1 sc, ch 3, 1 sc], skip next st, rep from * 7 more times, join in 1st sc of round — 8 ch-3 spaces.
Round 3: Ch 1 (does not count as st), work 5 scs in each ch-3 sp around, join in 1st sc of round — 40 sts.
Fasten off and weave in ends.
Joining
To join the flowers, you can simply sew them together with a needle and thread or you can use the join as you go method (JAYGO). For a "how to" on the JAYGO method, see my Flower Bracelet here. I only joined the flowers at one point for this.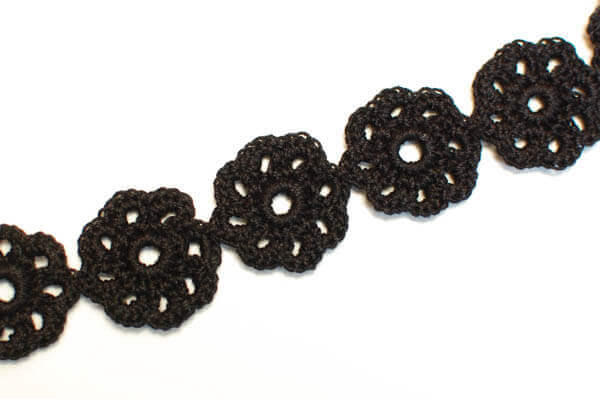 Finishing
To fasten the choker around my neck I just used some of the thread to tie a simple bow at the back but you can also attach a jewelry closure if you wish.