I found these adorable little bean bag chicks on Gluesticks Blog and envisioned them as cute little Spring pets to decorate my kitchen. But since you already know I don't drag my sewing machine out often, I decided to crochet them instead. And there was hatched (ha ha) this cute crochet chicken pattern.
Crochet Chicken Pattern …
Little Chick Bean Bag Pattern
Here's what you will need:
3 colors worsted weight cotton yarn, small amount of black yarn or crochet thread.
H hook and G hook
dried beans
fiberfill stuffing
tapestry needle, scissors
Click here to reference Crochet Abbreviations or here to reference Crochet Stitch Symbols.
A French translation of this pattern has been provided by Christelle Sobaba of Sobaba-Maternage Blog.  Click here to download the French translation … Français pdf. 
Add this pattern to your Ravelry library.
Body
Finished sizes: Chick approx. 3½ in.; Mama approx. 4½ in.
Pattern written for Baby chick (with changes for Mama chick in parentheses)
With H hook and CA, ch 13 (17).
Row 1: Work 1 sc in 2nd ch from hook and each ch across, turn — 12 (16) sts.
Row 2: Ch 1 (does not count as st), work 1 sc in each st across, turn — 12 (16) sts.
Rows 3 through 28 (38): Repeat Row 2.
Fold piece so that Row 1 lines up with last row, slip stitch together to corner then slip stith down side to fold.
Fasten off and weave in ends. 

Face Detail
Use G hook for Baby and H hook for Mama.
Join CB in 4th st from slip stitched corner, ch 3 (counts as dc), work 2 dc in same st as join, 1 sc in next, 3 dc in next, 1 sc in next, 3 hdc in next, 1 sc in next, Sl st in next, fasten off.
Join CC in next st, ch 1, work 1 sc in same st as join, ch 3, 1 sc in furthest ch from hook, 1 sc in next st, Sl st in same st, fasten off.
Skip next st, join CB in next, ch 1, 1 hdc in same st as join, ch 1, Sl st in same st, fasten off.
Weave in ends.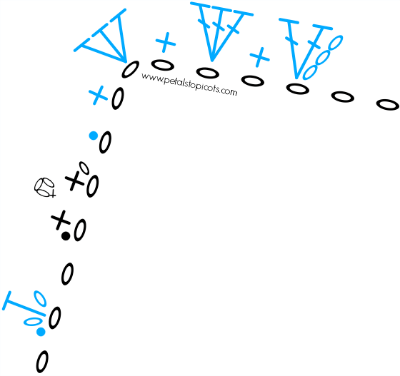 With black, make a french knot for each eye as shown.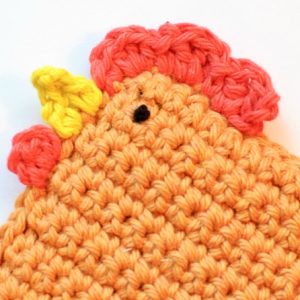 Turn piece so opening is in back. Stuff a little fiberfill stuffing into the head. Fill about 3/4 of the way with dried beans (I used expired pop corn kernels I had on hand!). Close pouch and Sl st closed.

That's it! A cute little mama and baby chick now sit on my windowsill and keep me company as I do dishes.
I hope you liked this chick-chick-chick crochet chicken pattern 🙂
Check out for of my free crochet patterns here.