Today I am sharing this Santa Knit Gift Card Holder Pattern for my knitting friends! A few weeks back I shared the crochet version here, but I wanted to offer a knit version as well for those of you who prefer to knit.
Click here for more Free Knitting Patterns.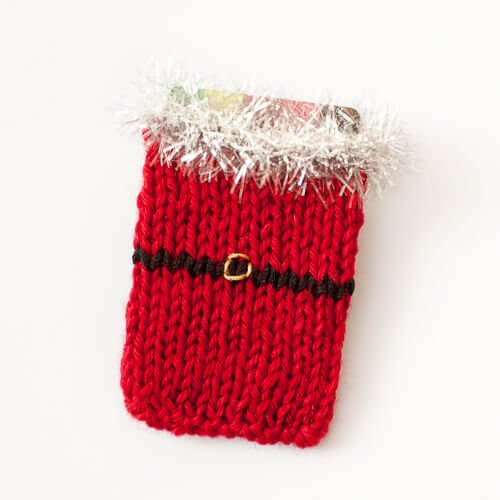 Hope you enjoy it!
Santa Knit Gift Card Holder Pattern
Here is what you need:
red and black worsted weight yarn
tapestry needle, scissors
Resources and tutorials you may find helpful in following this pattern: Knitting Abbreviations, Complete Beginners Guide to Knitting, Easy Crochet Hook Bind Off.
Add this pattern to your Ravelry library.
Finished holder is approx 3 ½ in. high by 2 in. wide and should fit standard sized gift cards.
With red, cast on 22 sts over 3 DPNs or your circular needle, trying to leave a tail of above 6 inches to weave holder closed later. Join to begin working in the round.
Rounds 1 through 10: Knit around.
Round 11: With black, knit around.
Rounds 12 through 20: With red, knit around.
Round 21: With glittery eyelash yarn, knit around.
Bind off with eyelash yarn.
Finishing
Flatten cylinder and using your long beginning tail and a tapestry needle, sew bottom of holder (Round 1) closed. Weave in ends. Now grab your needle and gold crochet thread and stitch a little square in the center of your black row for a belt buckle embellishment.