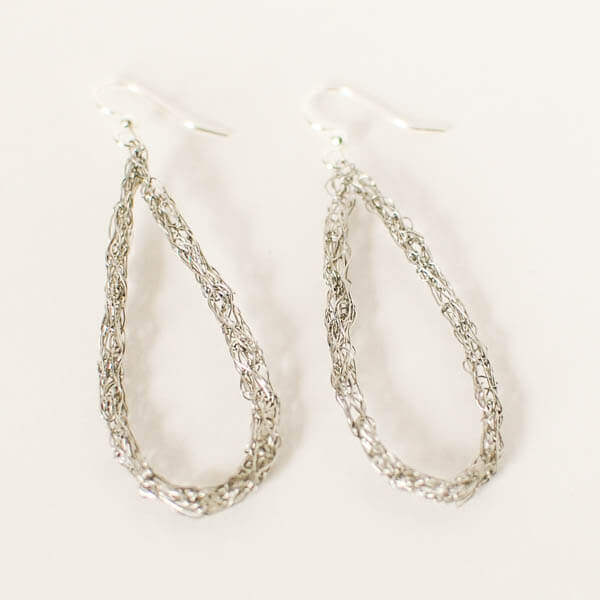 These wire earrings are actually the result of some experimentation gone wrong … but I can't say that I am sorry because I love how they came out! I originally was experimenting with Tunisian crochet with wire but wasn't liking how it was coming out, so I fastened off and just started fiddling with the piece I made. And when I rolled it up I really liked the look of it! So I sat back down and made these earrings, but this time I just stuck to basic crochet stitches.
Crochet Wire Teardrop Earrings
Here's what you need:
30 gauge silver wire
a pair of ear wires
D hook
2 crimp beads
Resources and tutorials you may find helpful in following this pattern: Crochet Abbreviations, U.S. to U.K. Crochet Conversion Chart.
(Make 2)
Ch 16.
Row 1: Work 1 sc in 2nd ch from hook and each ch across, turn — 15 sts.
Row 2: Ch 1 (does not count as st), work 1 sc in each st across, turn — 15 sts.
Row 3: Repeat Row 2.
Fasten off leaving a tail of approx. 6 inches.
Now is the fun part! Roll the piece into a long skinny strip and then gently fold to make a tear drop shape. Use the tail to join the ends together. Add a crimp bead to the tail. Weave tail through the ear wire and back through the crimp bead. Flatten crimp bead to secure tail. Cut tail right after crimp bead or weave it into the earring.