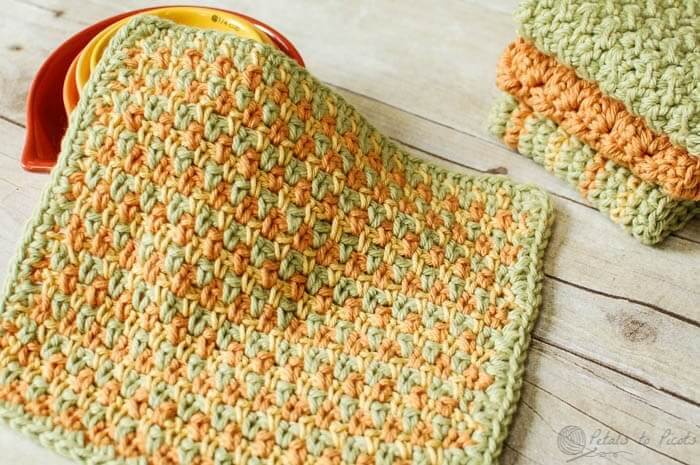 We continue our fun month of kitchen patterns with this simple dishcloth pattern. If you missed it, you can click
here
to see last week's pattern and the other patterns as they are released. This week's pattern uses three colors. Of course you could do it all in one color, but I love the bright and cheery effect that the different colors have. Enjoy!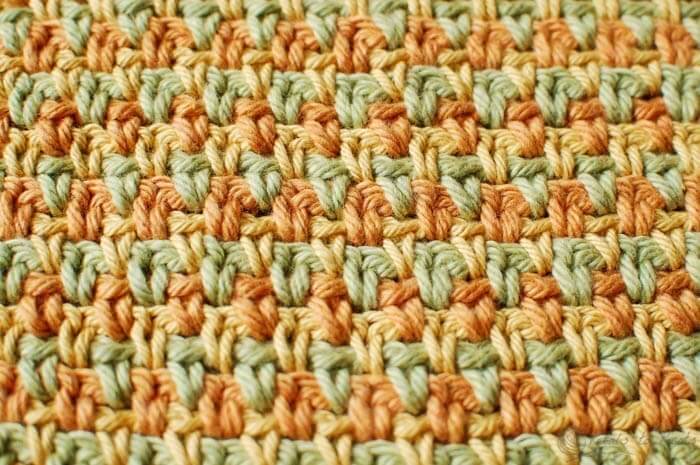 Three Color Simple Stitch Crochet Dishcloth Pattern
Here's what you need:
3 colors worsted weight cotton yarn
H hook
tapestry needle, scissors
Click here to reference the Crochet Abbreviations Chart.
Finished washcloth measures approximately 8 inches square.
With CA, ch 30.
Row 1: 1 sc in 4 ch from hook (counts as ch-1 sp and 1 sc), *ch 1, skip next ch, 1 sc in next ch, rep from * across, turn — 14 sc and 14 ch-1 sps.
Row 2: Join CB, ch 2 (counts as ch-1 sp), *work 1 sc in next ch -1 sp, ch 1, rep fr * across, work 1 sc in ch sp of turning ch, turn — 14 sc and 14 ch-1 sps.
Row 3: Join CC and rep Row 2.
Rows 4 – 30: Rep Row 2 for pattern alternating CA, CB, and CC.
Fasten off.
Edging
Join CB in any st around edge. Work a single crochet edging around all 4 sides of washcloth, working 3 sc in each corner.
Fasten off, weave in ends.
From left to right: Textured Dishcloth, Seeing Squares Dishcloth, Crunchy Stitch Dishcloth, and Three Color Simple Stitch Dishcloth (this post).