Since Valentine's Day is around the corner, I thought it be be nice to end our week of needle felting fun with this easy idea to make a pretty "heart"felt card. The process for making the heart is exactly the same as used in my Needle Felted Leaf Photo Tutorial. And if you are completely new to needle felting (or just need a refresher), you can always reference by Introduction to Needle Felting post.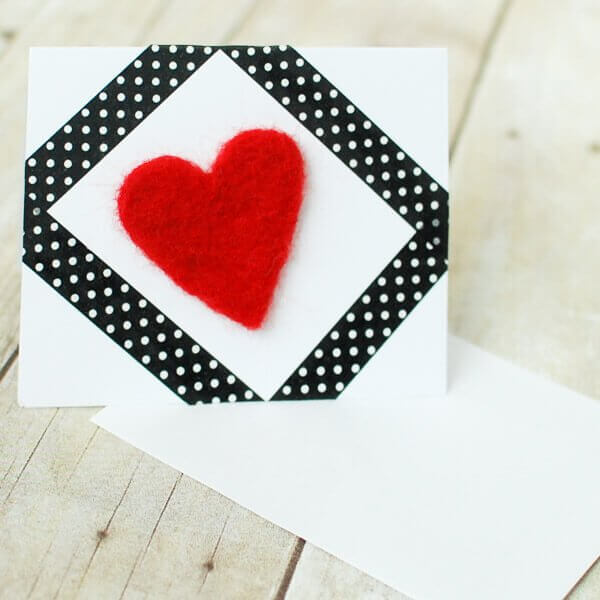 Ready to go?
Here's what you will need:
blank greeting card and envelope
red wool roving
felting needle (I used a 3 needle Clover tool for mine)
heart-shaped cookie cutter
foam pad
decorative washi tape
double-sided tape or glue
Needle Felted Heart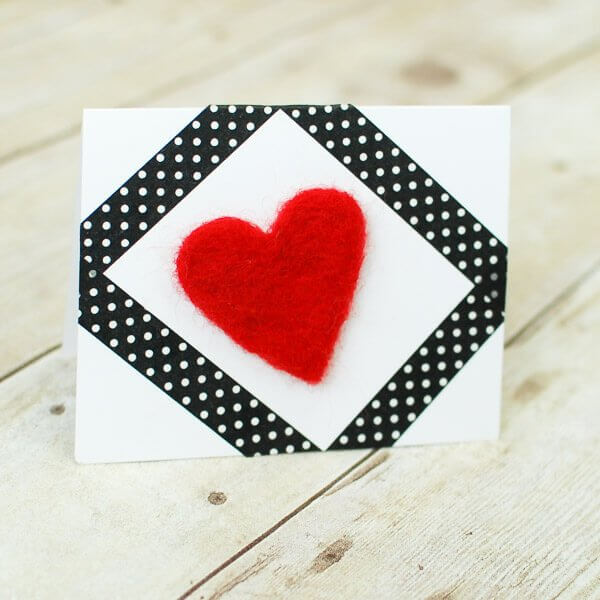 How to make the needle felted heart:
Again, we will follow the same steps used Needle Felted Leaf Photo Tutorial, so if you would like a photo step by step just click here.
To begin, place your cookie cutter on your foam pad and fill it loosely with your wool roving. Start poking away at the wool with your needle, taking care not to stab too deeply or your wool will start getting stuck in your foam. Make sure to work the wool into all your corners.
Once your have compacted your wool a bit, flip the cutter and wool over and do the same to the other side. When you feel like you have your shape the way you like it, just pop the heart out of the cutter. Now you can leave it as is or work it some more, or even add some detail like I did in the Needle Felted Leaf Photo Tutorial.
How to assemble the card:
I made my card for my mom and wanted her to be able to take off the heart and keep it as an ornament or embellishment or whatever she wished, so I used double-sided tape to attach the heart to the card, but you could also glue it or even at a stitch through the heart and card to sew it on.
Once attached, the only thing left is to decorate it. I used a few strips of washi tape to add a little more embellishment. You can get as creative as you would like … there is no limit … think stickers, buttons, glitter … whatever you like!