I can't wait to dig into this Introduction to Needle Felting with you! If you follow along with me on Instagram you know how much I love needle felting. There is just something so relaxing about it … taking a handful of fluffy wool, poking it until it molds into the shape you want. It's such a peaceful and restorative process for me; I put a little background music on and completely get lost in my project.
So, if you are new to the craft, I would love to give you a little introduction …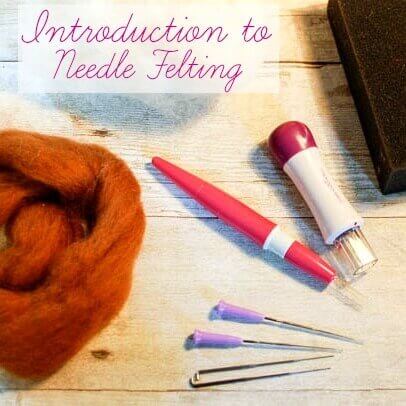 Needle Felting 101: Introduction to Needle Felting
At its simplest definition, felting is the process by which animal fibers condense and bind together to create a dense and durable fabric or form. This is most commonly done with wool, but can really be done with any protein animal fiber, such as from alpaca, camel, yak, cashmere, mohair, angora, and llama. Although all of these fibers have the properties that allow them to felt, some are more suitable for the purpose than others.
In a previous post I outlined Felting Knitting & Crochet with hot water, a little soap, and agitation.
Needle felting follows the same principle of agitating the fibers but just by a different process. In needle felting you use a needle to agitate the fibers. As the needle works in and out of the wool, the barbs catch scales on the fibers and cause them to interlock and bind together.
Basic Needle Felting Supplies
Here are some basic tools and supplies you need to get started …
Felting needles — These are very sharp barbed needles (ouch!) that are available in a variety of sizes, from very fine (about 42 gauge) to coarse (32 gauge). A 36- or 38-gauge needle is a good all around one to have. You can use a single needle or a holder that houses a few.
Foam pad — The pad will support your project and protect your work surface and your needles.
Wool roving — Any fiber that felts can be needle felted (some more easily than others), but wool fiber is the standard.
Wool batting — Wool batting is wool that has not been combed or carded; it is coarser than roving and good for the core of your projects.
Scissors
That's all you really need to get started. Depending on the type of project you are working on, you may also use some cotton piping cord, craft eyes, sewing needle and thread, pipe cleaners, beads, glue, etc.

How to Needle Felt
That's the easy part! Just start poking away at your wool with your felting needle. Make sure to use your foam pad as a support and to protect your surface. Keep your needle straight as you poke up and down to keep it from breaking. This is called needling. You don't need to poke too deep; keep moving your piece around so the wool won't stick to the foam pad. You will notice your wool becoming denser and more compact. Just keep poking until you have the shape you want. That's all there really is to it!!
Ready to give it a try? Click here and choose a fun needle felting project.