Easily achieve a knit look with basic crochet stitches … if you know how to work a half double crochet, you can do this! I designed this "Knit" Crochet Cowl Pattern to be worked in a tubular structure because I really like the appearance of the "knit" stitches appearing vertically as opposed to horizontally. As an added bonus, not only is it warm and cozy, but it also stands up nice around neck.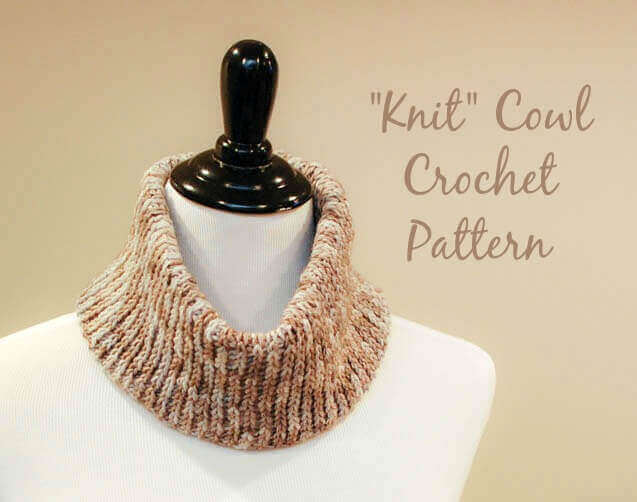 "Knit" Crochet Cowl Pattern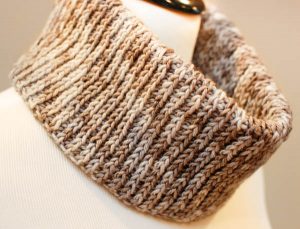 Here's what you will need:
1 skein of DK weight yarn (approx. 225 yds)
scissors and yarn needle
This pattern is written in U.S. crochet terms and abbreviations. Resources and tutorials you may find helpful in following this pattern: Crochet Abbreviations, U.S. to U.K. Crochet Conversion Chart.
Add this pattern to your Ravelry library.
Finished cowl as written equals 4½ in. high × 24 in. circumference but can be customized to any size; additional yarn may be needed if making larger.
Chain 37 sts (or work a Foundation Half Double Crochet of 38 sts as shown in my tutorial here and continue to Row 2 after joining to form a ring).
Row 1: Work 1 hdc in 3rd ch from hook and each chain across, join in the back bump of beginning chain to form a ring — 38 sts.

For Row 2 and on we are going to be working in the third loop, also sometimes called the middle loop, of each half double crochet stitch … this is what achieves that knit look. If you have never worked in the third loop, it appears on the back side of each half double crochet stitch (see photo below). Just yarn over and insert your hook through that third loop and complete your half double crochet as usual (that is, yarn over again and pull through the loop, yarn over and pull through all loops on hook).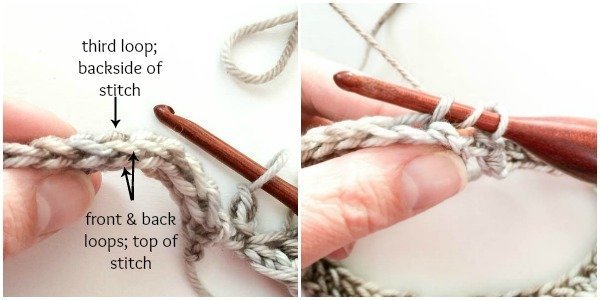 Row 2 through 62: Ch 2 (counts as st), work 1 hdc in the third loop of the next st and each st across, join in the back bump of beginning chain — 38 sts.
Finishing
Now all that is left is to join the bottom edge of Row 1 with top edge of Row 62. You can do this in the method of your choice, such as by slip stitching around or by fastening off and leaving a long tail to whip stitch around with a yarn needle. Weave in ends. Block if desired; you can reference my post How to Block Knit and Crochet Items for more information on blocking.
I get so many compliments and inquiries about my Furls hook. It is a handmade wood Furls hook and it is divine! You can find out more about it or buy your own through my affiliate link here or by clicking on the image below.