The magic ring crochet technique is one of my favorite tricks! It's can really improve the look of projects that are worked in the round, such as hats, granny squares, crochet amigurumi, and so on. The magic ring crochet technique creates an adjustable loop that lets you control the size of the center hole of your work by pulling the tail to close the loop. You can pull it all the way closed as is desirable when crocheting hats and amigurumi. Or if you prefer a small opening in a granny square center, you can control that too!
That is the beauty of the magic ring … you have complete control of how it comes out!
In addition to the term magic ring, a pattern may instead refer to it as a magic circle, slip ring, adjustable ring, or a magic loop. These terms all refer to this same technique though.
Magic Ring Crochet Technique

So now that we have covered the why of the technique, I want to show you the how.
In the instructions below I will show you step-by-step how to crochet a magic ring. You can follow along by video or my written and photo tutorial further down the page …
HOW TO CROCHET A MAGIC RING
Video Tutorial
In this video tutorial I will show you how to use the magic ring crochet method to start off a project in the round. Make sure to turn on your sound so you can hear as I walk you through the steps …
Or if you prefer, you can just follow along with the step by step directions and photos below.
Photo Tutorial
To make a magic ring, wrap the yarn around your fingers with the tail end of the yarn behind the working yarn (the yarn coming from the skein) and leaving a tail about 6 inches long (see Fig. 1). Hold the place where the yarn overlaps between your thumb and forefinger (Fig. 2).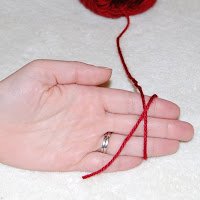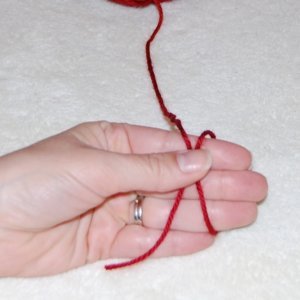 Insert your crochet hook into the center of the loop (see Fig. 3) and bring through a loop of the working yarn, you will now have one loop on your hook (see Fig. 4).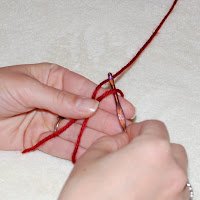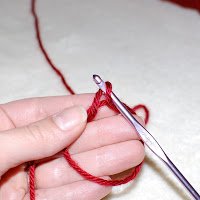 Work a chain stitch to secure and continue working pattern as written (please note that the chain 1 stitch should count in your pattern, for example, if your pattern says Chain 1, work 6 single crochet stitches into ring, you have already made the chain 1 stitch and should just continue working the single crochets). See Fig. 5 below.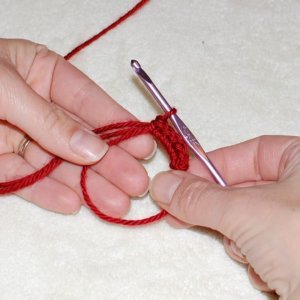 Magic rings aren't just for single crochet stitches though. You can also use taller stitches like half double crochet, double crochet, and so on with the magic ring crochet method. Again, check your pattern for how many beginning chains and the number of stitches to work into the ring.
Once you have finished working your first round of stitches, join with a slip stitch or as directed in your pattern and pull the tail end of the yarn to close up the hole in the center (see Fig. 6).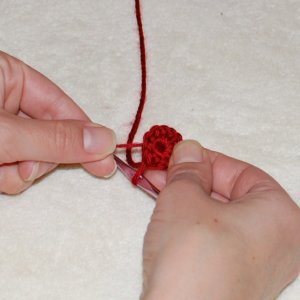 That's all that's to it! When you are finished with your project, use a yarn needle and weave in that beginning tail. I like to weave first in one direction and then bring the yarn through in the opposite direction to really lock that tail in place and decrease the chances of the middle of your circle coming loose.
Double Magic RING
There is also a variation of this adjustable loop technique called the double magic ring, or double magic circle?! To do the double ring, you would wrap the yarn around your fingers twice instead of once as shown in Fig. 1 above. You will now have two strands of yarn around your fingers.
Many crocheters find this double looped center adds some extra durability and strength to the crochet center. This would be especially useful for granny square afghans or other items that will be get a lot of us. However I find that in most instances, the single loop is all you need as long as you really weave your tail in securely.
Next steps
Ready to test out your new skill? Try out one of these patterns that are perfect for starting with a magic loop! …
Spiral Flower

Basic Adult Hat Pattern
you may Also enjoy …