Crochet standing stitches are an alternative to beginning chains and are handy to have in your repertoire. They are also the perfect trick for granny squares! The thing that is so wonderful is they look just like a stitch because they are a stitch! Yay for no more telltale beginning chains.
If you are working in the round, you can pair a standing stitch with the invisible join and fasten off technique I shared here and it will be virtually impossible to tell where the final join and fasten off was made!! So how is it done? I will show you step-by-step below. Spoiler: it's really simple!
How to Crochet Standing Stitches
Basically, a standing stitch is worked just like a regular stitch except that you start it with a slip knot on your hook.
In my example below I am working on the Lion Brand Little Boy Blue Blanket Pattern which calls for a row of double crochets. So I am going to yarn over first and go into the stitch and work a double crochet as usual. If you are doing a single crochet, you would not need to yarn over first but instead go directly into the stitch and work the single crochet as usual, and so on.
Here is how to work a standing stitch for double crochet …
1. Start with a slip knot on your hook. 2. Yarn over, holding onto the tail so it doesn't flip back around. 3. Insert your hook into the first stitch

4. Yarn over and pull up a loop (3 stitches on your hook). 5. Now complete as you would a regular double crochet (that is, yarn over and pull through 2 loops twice) …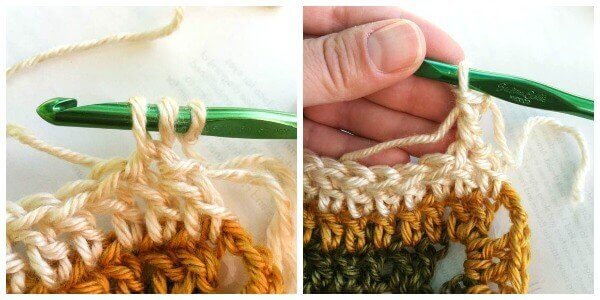 That is all there is to it. Pretty handing, huh! I use this method pretty much any time I need to join a new yarn. Hope you find it helpful too!
You can find more helpful crochet tutorials and tricks on my Tutorials Page here.