Here is a quick and easy pencil case pattern and fun felting project too! This handy little case is the perfect size for pencils, hooks, or just about anything.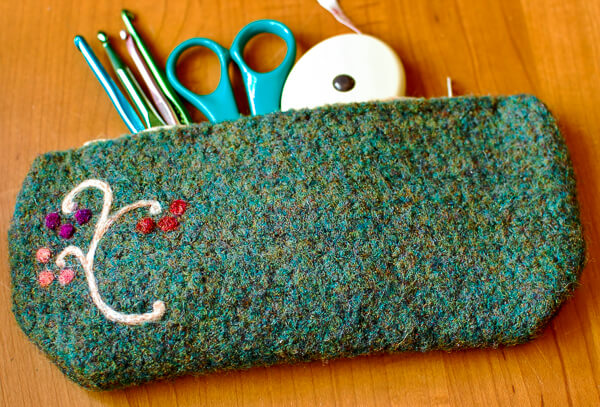 Before you begin, make sure to choose a yarn that fill felt. See my post
Felting Knitting & Crochet
for a list of fibers that felt. I used a 100% wool yarn (make sure to not use "superwash" wool!). I used
Cascade 220
for this project.
Since all yarns felt differently, I worked up a little test swatch with the yarn I chose to see how much my piece would shrink. This gave me the information I needed to calculate how large I would have to make my case to have it be the size I wanted after felting.
I wanted my finished case to be about 9 in wide by 4 in deep. So, using the measurements of my test swatch and the formula I showed you in my
Felting Knitting & Crochet
post, I determined that I would need to work up a square of about 10¾ in wide and 10½ in long to achieve my desired measurements once felted.
Then I got to work crocheting the case …
Felted Pencil Case Pattern
Here's what you will need:
approx. 100 yds of 100% wool yarn – not "superwash"! (shown here in Cascade 220)
yarn needle and scissors
Resources and tutorials you may find helpful in following this pattern: Crochet Abbreviations, U.S. to U.K. Crochet Conversion Chart, Felting Knitting & Crochet.
Add this pattern to your Ravelry library.
Ch 38.
Foundation Row: Work 1 dc in 4th ch from hook and each ch across — 36 sts.
Row 1: Ch 3 (counts as st), work 1 dc in each st across — 36 sts.
Rows 2 through 19: Repeat Row 1.
Fasten off and weave in ends.
Fold piece in half so that the top row and bottom row line up on top of each other (this will be the top opening of your case). Working along the sides, work 1 sc through both layers to join sides.
Now it is time to felt your case. For a felting refresher, see my
Felting Knitting & Crochet
post. Once I was happy with the amount the case had felted, I rolled the case between two towels to get out the excess water. Then I shaped my case the way I liked it and crumbled up a plastic bag to keep its shape.
Once the case is dry, sew on a zipper and you're all set.
I even dressed mine up with a little needle felting design … I love how this came out!