This easy crochet edging pattern is a super quick way to add a personal and handmade touch to any piece of fleece or fabric … perfect for a last minute gift or for making items and loveys to donate! If the fabric already has a blanket stitch around it, just work into the tops of the stitches. If there is no stitching around it, no worries at all … check out my post here on how to prep your fabric to crochet a border.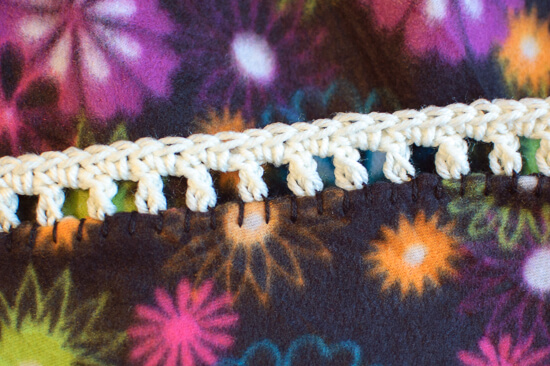 Got your fabric? Ready to get started?
Easy Crochet Edging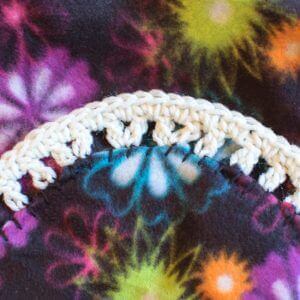 Here's what you need:
worsted weight yarn
H hook
fleece or fabric blanket
Resources and tutorials you may find helpful in following this pattern: Crochet Abbreviations, U.S. to U.K. Crochet Conversion Chart.
Round 1: Join yarn in any blanket stitch along edge of fabric (see here to add your own), ch 4 (counts as 1 dc and 1 ch), skip next blanket stitch, *1 dc in next blanket stitch, ch 1, skip next blanket stitch, rep from * around, working [1 dc, ch 1, 1 dc], ch 1, skip next blanket stitch around corners (Note: you may need to adjust how you work your corners depending on the degree of curve you have to your blanket's corners), join.
Round 2: Ch 1 (does not count as stitch), work 1 sc in first st, 1 sc in next ch-1 sp, *1 sc in next st, 1 sc in next ch-1 sp, rep from * around, join.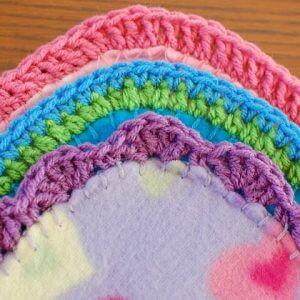 Click here for more quick and easy (and free!) blanket edging patterns.