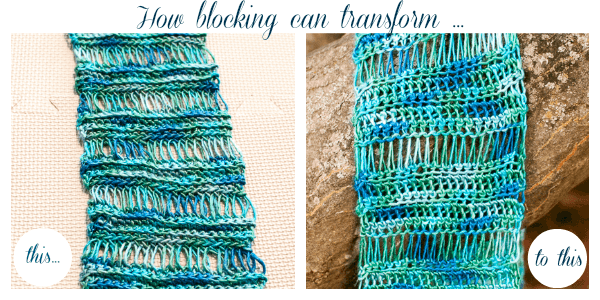 Whenever I recommend blocking an item, I sometimes am met with a blank stare and then some questions about exactly what, why, and how to do this. So I thought it would be helpful to put together a little tutorial to explain just that … How to Block Knit and Crochet Items.
What is blocking?
Blocking is the method of shaping your finished knit or crochet piece to your desired size and shape or the dimensions noted in a pattern. It also helps open up your stitches to help make them look more even and defined. There are a few different methods of blocking. Some people prefer to fully saturate their piece in water, some just spritz and pin, and others prefer to use steam. I don't have a whole lot of experience with the steam approach so for the purposes of this tutorial I am just going to stick with wet blocking.
Why block?
Blocking an item definitely improves the look of the piece. As discussed above, not only does it mold the piece into its final shape and size, but it also helps enhance the stitches and leaves your piece with a more professional and nicely finished look. It can also help bring out the beauty of the yarn, especially if it was made with a natural fiber like wool, silk, alpaca, etc.
How to block?
I prefer wet blocking, which is essentially wetting your piece, shaping it, and letting it dry. But before beginning you should always check your yarn label … if a yarn calls for dry cleaning only, don't block it! If you are making an item with multiple parts that will be pieced together, such as a granny square afghan or a garment, you can either block the pieces individually before sewing them together or piece them together and then block the item as a whole. I prefer to sew everything together and then block it, but it is really just a matter of preference.
Here is what you will need:
small basin or spray bottle (depending on whether you are fulling saturating your piece or just spritzing)
tape measure
clean, dry towels
blocking board (optional)
blocking pins
mild shampoo or wool wash (optional)
your piece to be blocked

For most items, I find that spritzing with a spray bottle is all I need, but for heavier weight yarn I like to fully saturate the piece in a basin.
For the spritz approach, fill your spray bottle with room temperature water … not hot! (Hot water can actually make natural fibers felt together. Although I love felting items, it is not always the result I am looking for. You can read more about felting here.) Pin your item to a blocking board (or a few layers of towels), easing the piece to the size and shape you want and pinning to hold in place. For really lacy pieces you might want to try blocking wires instead of pins (see bottom of post for links to blocking supplies).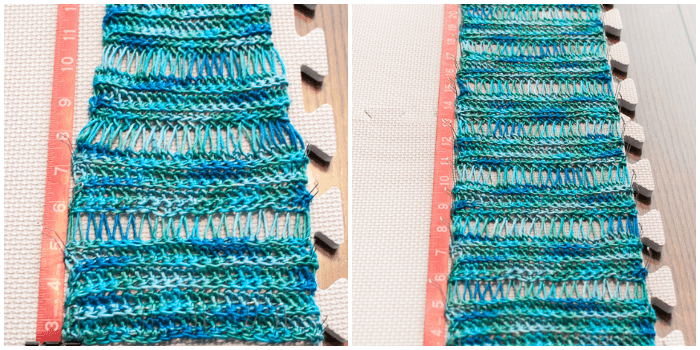 Then spray your piece down with water. The water will usually help make your piece more moldable, so feel free to continue to ease it into shape until you are happy. If my piece is overly saturated, I blot it down with a dry, clean towel and then let it air dry the rest of the way. That's it! Once dry it is ready to unpin and wear!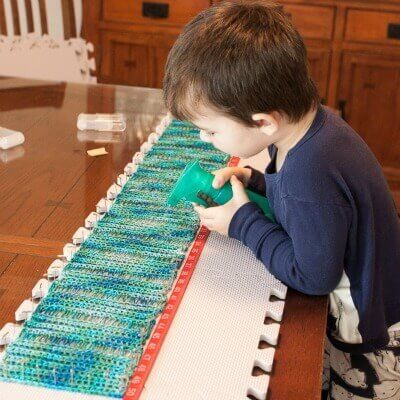 For heavier weight items I fill a basin with some room temperature water and completely submerge the item. You can add a little wool wash to the water beforehand if you wish to soften up and condition the fibers (and give it a pretty smell). If using a wash make sure to fully rinse out your piece after. Once fully saturated, take the piece out letting the excess water drip and lay it on some dry and clean towels. Do not ever twist or wring out your piece! Lay some more dry towels on top and roll the item up in the towels to press out the water. Repeat with additional dry towels if necessary until your piece is just damp. Once done, ease your piece into shape. You can pin it on a blocking board as described above or just shape with your hands and let it dry on a dry towel. You can even stuff your piece with some plastic bags to hold the shape if you'd like as I did with my felted hook case here. Once dry, you are all set to wear!
That's it … pretty easy, huh?! And you will be amazed at the transformation of your piece. Give it a try and let me know how you make out. You can even take some before and after photos to share on my Facebook page if you wish.
And if you are interested in buying blocking supplies, you can also help support my blog by purchasing through the affiliate links below …