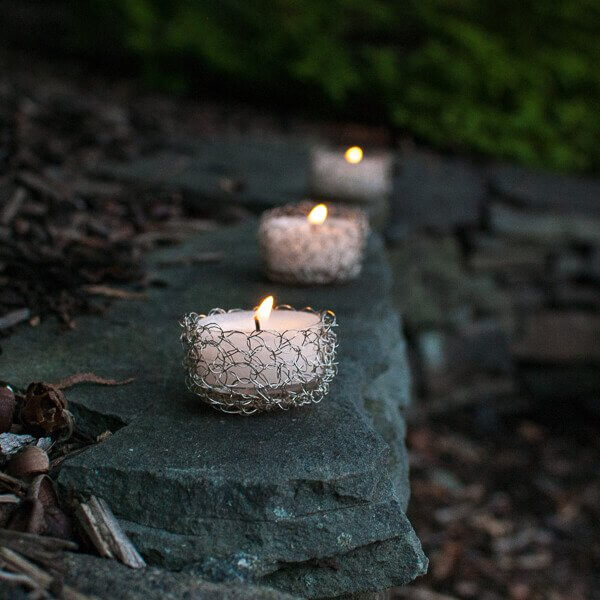 I have a new wire crochet project to share with you today … these pretty wire crochet tealight holders!
We love sitting outside on these balmy summer nights but hate the harshness of the light from our back door or garage.  So I thought some candles would do the job while keeping the relaxing ambiance. It did the trick, and we have been enjoying them! I love how they look lined around our patio, and it provides just the right amount of light. Now I need to head to the store for more tealights … 
Wire Crochet Tealight Holder
Here's what you will need:
G hook
28 gauge wire
tealights
wire cutter (I'll  be honest … I use my scissors, although it's probably not the best idea for them!)
Click here to reference Crochet Abbreviations.
Make a magic ring, or alternately you can ch 2 and then work Round 1 in the second ch from your hook.
Round 1: Ch 1 (does not count as st here and throughout), work 6 sc in ring, join — 6 sts.
Round 2: Ch 1, work 2 sc in same st as join and in each st around, join — 12 sts.
Round 3: Ch 1, work 2 sc in same st as join, 1 sc in next, *2 sc in next, 1 sc in next, rep from * around, join — 18 sts.
Rounds 4 through 7: Ch 1, work 1 sc in same st as join and each st around, join — 18 sts.
Snip wire and fasten off as usual. Weave in the wires to secure and then try to fold the ends into themselves to keep them from poking you.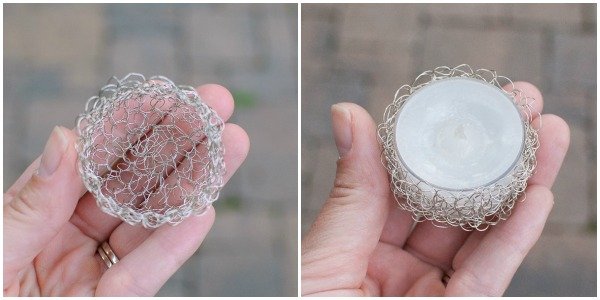 Now just fill with you favorite tealight, grab a cup of tea, and relax.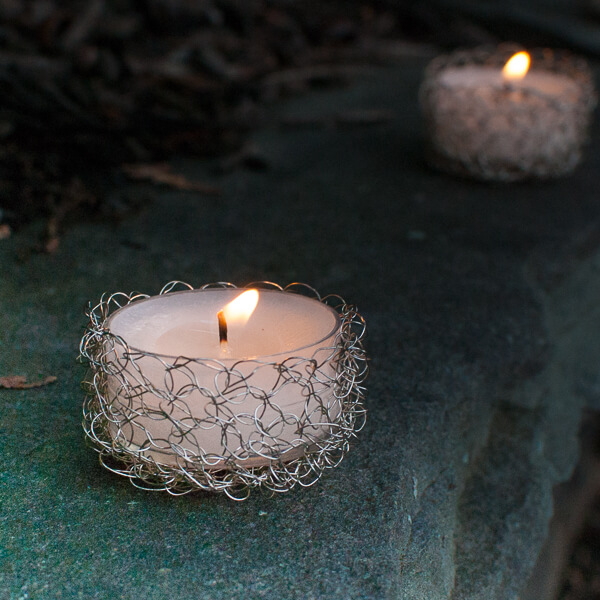 Click here to check out more of my wire crochet patterns.
Interested in making this project? You can also help support my blog by purchasing through the affiliate links below …



You may also be interested in ...