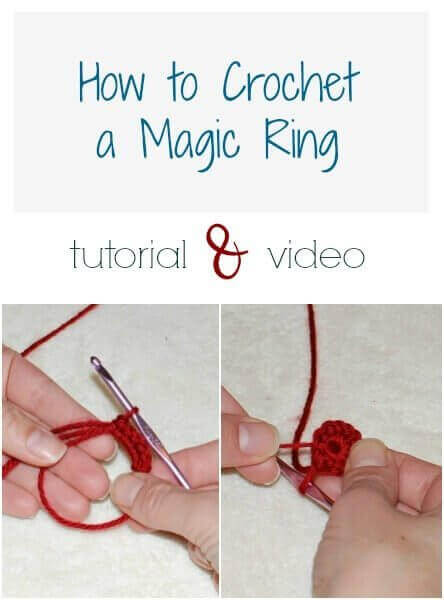 There are two starting options when working in the round.  The most common way is to make a foundation chain and to slip stitch the first and last chain together to create a loop.  Then the stitches are worked over the chain, leaving an open center.
Another option is to make a magic ring, sometimes called a slip ring, adjustable ring, magic loop, or magic ring.  The magic ring is an adjustable loop that lets you pull the loop tight to close up the hole in the center of your work or to control the size of the center.  This option can be used for crocheting hats, amigurumi, granny squares, flowers, and other motifs.
You can follow along with my video or step by step photo tutorial below …
Video Tutorial
Step by Step With Photos
To make a magic ring, make a loop with the yarn around your fingers with the tail end of the yarn behind the working yarn (the yarn coming from the skein) and leaving a tail about 6 inches long (see Fig. 1). Hold the place where the yarn overlaps between your thumb and forefinger (Fig. 2).
Insert your hook through the loop (see Fig. 3) and bring through a loop of the working yarn, one loop is now on the hook (see Fig. 4).
Work the first round as instructed by your pattern.  In most cases you will chain 1 and make a number of single crochets into the loop (see Fig. 5). Join and pull on the tail end of the yarn to tighten (see Fig. 6).