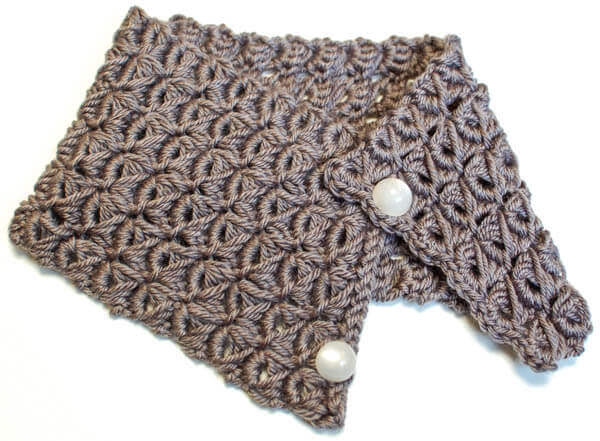 This pretty broomstick lace cowl makes a great accessory for those chilly Autumn days. And it is the perfect starter project for those of you who are new to broomstick lace too!

Here's what you will need:
H hook
#19/15 mm knitting needle
worsted weight yarn
2 or 3 large buttons, approx. ¾ in.
tapestry needle and scissors
Click here to reference the Crochet Abbreviations Chart.
Note: Do not turn at the end of each row. All stitches are worked facing front.
Ch 25.
Row 1: Work 1 sc in 2nd ch from hook and each ch across — 24 sts.
Row 2: Put loop from hook onto knitting needle; *insert hook into next stitch on the right and pull up a loop, transfer loop to needle, rep from * across — 24 loops on hook.
Row 3: Insert hook through first 4 lps from needle, yo and pull through loops, ch 1 (does not count as stitch here and throughout), work 4 sc in same loops, *inserting hook through next 4 loops, work 4 scs in loops, rep from * across —24 sts.
Repeat Rows 2 and 3 for pattern 23 more times or until desired length, ending on an odd numbered row.
Fasten off and weave in ends.
Finishing
The loops from your last row will work as your buttonholes. Check the fit of your buttons before sewing them in place. The buttons should easily slide through the loops but not so easily that they will pop right back out once fastened. Line up the button placement along your first few rows and sew in place.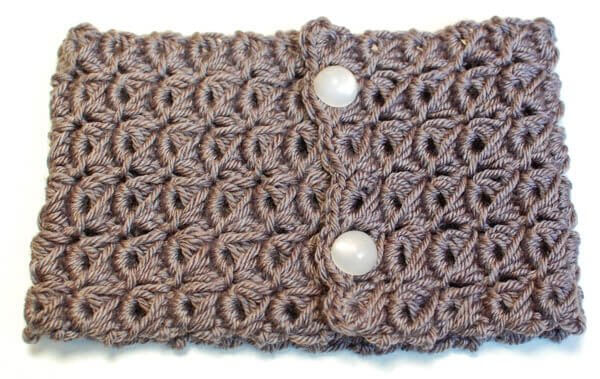 If you are interested in learning more Broomstick Lace techniques, Craftsy offers this awesome Broomstick Lace Class. If you are interested in taking the class, you can also help support my blog by purchasing through the link provided below.