This pretty wire ball crochet necklace is another one of those creations that was born out of an experiment gone wrong. I was trying out some new stitches with my wire and it didn't work out so well; so I gave up and poured myself a cup of tea. As I sat there I fidgeted with the piece and ended up rolling it into a ball. And voilà … Another idea was born! I sat back down and made up a few more, this time using just regular crochet stitches. Then I strung them all on a strand of Sparkling Taupe yarn from Lion Brand's Party Bonbon Collection. Want to make your own …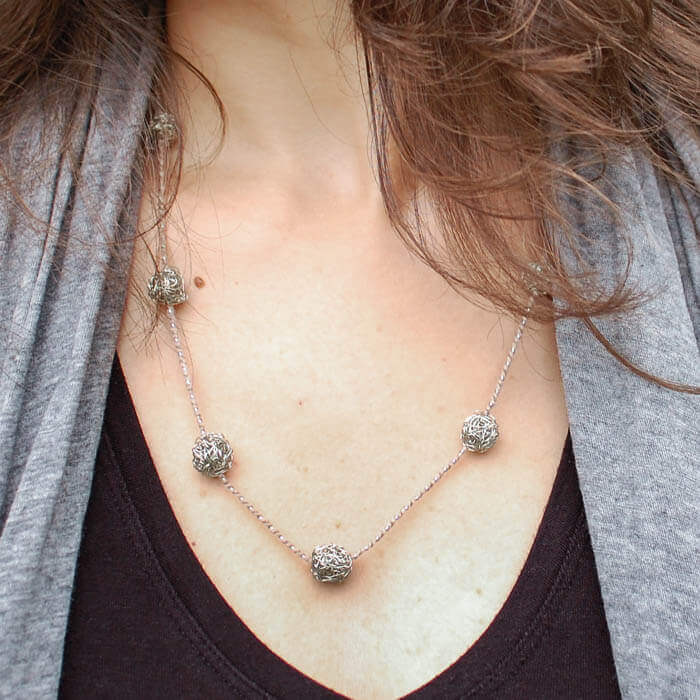 Here's what you'll need:
A piece of sport weight yarn cut to your desired length
30 gauge silver wire
D hook
sewing needle
This pattern is written in U.S. crochet terms and abbreviations. Resources and tutorials you may find helpful in following this pattern: Crochet Abbreviations, U.S. to U.K. Crochet Conversion Chart.
Ch 6.
Row 1: Work 1 sc in second ch from hook and each ch across, turn — 5 sts.
Rows 2 through 4: Ch 1 (does not count as st), work 1 sc in each st across, turn — 5 sts.
Row 5: Ch 1 (does not count as st), work 1 sc in each st across — 5 sts.
Fasten off. No need to weave in ends; just fold the tail over itself a couple times so there isn't a pointy end.
Now the fun part! Roll the little wire square into a ball. Using your sewing needle, string the balls onto your yarn. If desired, you can make little knots to keep them where you want them, although you may not need to; mine stayed right where I put them. Depending on the length of your necklace, you can either knot it in the back to just pull over your head or add some jewelry clasps for a shorter length.