WARNING – MAY INCITE ADDICTIVE BEHAVIOR!
I am so excited that you want to learn to crochet!! But I warn you now … it is addictive. I love everything about crocheting … the different hooks, the feel of the yarn, and the challenge of a new project. It is the perfect hobby because you don't need much to get started, mainly just a hook and some yarn, and it is so portable.
I hope you enjoy it as much as I do!Before we get into the stitches, let's go over a few basics. Getting Hooked
Crochet hooks come in different styles, sizes, shapes, and materials. They can be made from plastic, metal, wood, bamboo, nylon, and even bone. Some have a smooth tapered throat, while others have a more in-line flat throat. There are hooks with ergonomic handles, and there are novelty hooks, such as those that glow in the dark. There are large hooks that accommodate thicker yarns and achieve a certain look and tiny hooks used for creating lace, and all different sizes in between. Fig. 1 shows an assortment of different styles of hooks.
All crochet hooks have the same basic parts: the head or hook, the throat, the shank or shaft, and the handle with the grip or thumb rest. See Fig. 2 for an illustration of these parts.
The size of the hooks can vary greatly and are referred to in metric sizes and in U.S. sizes. The table below shows the metric size and U.S. equivalent of standard crochet hooks. Please note that steel crochet hooks are generally used with lace weight yarns or crochet threads and are sized differently than regular hooks. The higher the number of the steel hook, the smaller the hook is. Steel hooks range in size from a #14 or .9 mm (the smallest) to a 00 or 2.7 mm (the largest).
How do I know which hook to use?
If sizing is important, such as for hats and other garments, use the hook size noted in your pattern or the hook size necessary to achieve the gauge (more on this in a later lesson).
If sizing is not important, you can use the size recommended on your yarn label.
Experiment with using different types of hooks and use the one that feels best to work with.
| | |
| --- | --- |
| Metric (mm) | U.S. size |
| 2 | A |
| 2.25 | B-1 |
| 2.75 | C-2 |
| 3.25 | D-3 |
| 3.5 | E-4 |
| 3.75 | F-5 |
| 4 | G-6 |
| 4.5 | 7 |
| 5 | H-8 |
| 5.5 | I-9 |
| 6 | J-10 |
| 6.5 | K-10½ |
| 8 | L-11 |
| 9 | M/N-13 |
| 10 | N/P-15 |
| 15 | P/Q |
| 16 | Q |
| 19 | S |
Source: Craft Yarn Council's www.YarnStandards.com
Yarnie Choices
Plant fibers are made from sources such as cotton, linen, hemp, soy, bamboo, and jute. This yarn is great for summer garments because it is lightweight, absorbs moisture, is very breathable, and keeps you cool in the heat.Yarn comes packaged in skeins, balls, or hanks (pictured in order from left to right in Fig. 3) and can be made from plant fibers, animal fibers, synthetic fibers, or blends.
Animal fibers are made from sources such as wool, mohair, cashmere, silk, angora, alpaca, and llama. This yarn is perfect for winter items because of its warmth. It is also very breathable and has a great ability for keeping its shape. Items made from animal fibers usually need to be washed by hand, however, some yarns, called "superwash" are chemically treated to prevent felting or fulling when washed.
Synthetic fibers are made from sources such as acrylic, viscose, nylon, rayon, and polyester. This yarn is usually less expensive, but they do not usually breath as well as animal and plant fibers. They are, however, usually very durable.
Make sure to check the label on the yarn before purchasing. The label contains such information as yardage, dye lot, suggested hook size, gauge, yarn weight, and care symbols (for more on care instructions and symbols, see my article Caring for Your Knitted or Crocheted Items).
Yarn weights range from lace, such as what is used for lacy, openwork designs, to super bulky yarns used in sweaters, scarves, and afghans (see yarn weight chart below; source: Craft Yarn Council's www.YarnStandards.com).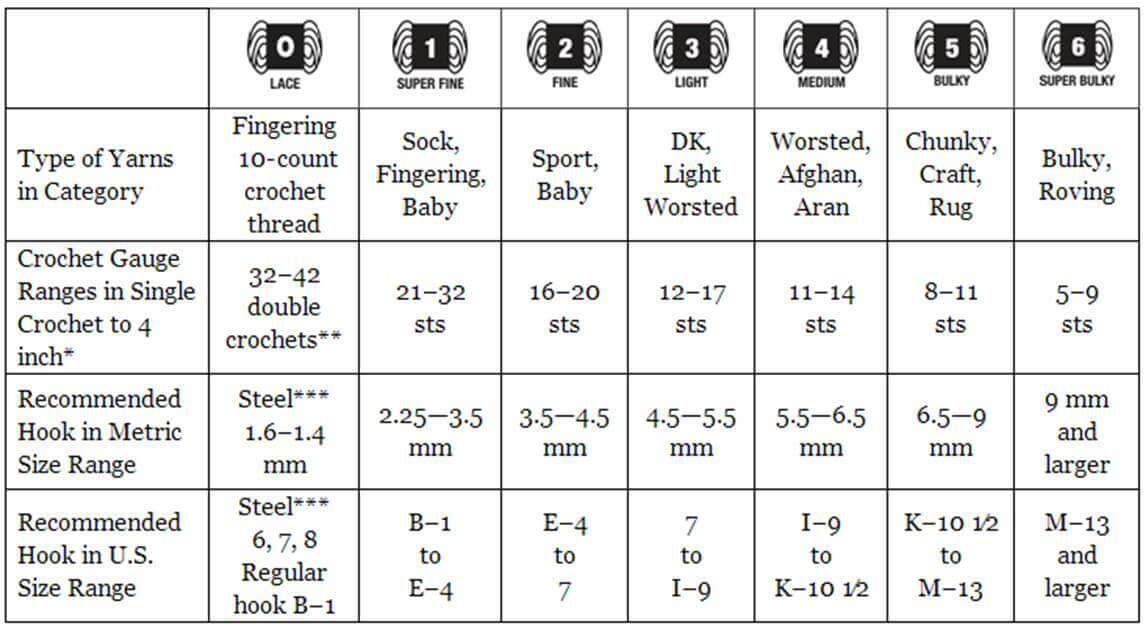 * This chart is a guideline only and reflects the most commonly used gauges and hook sizes for specific yarn categories.
** Lace weight yarns are usually crocheted on larger hooks to create lacy, openwork patterns. Accordingly, a gauge range is difficult to determine. Always follow the gauge stated in your pattern.
*** Steel crochet hooks are sized differently from regular hooks — the higher the number, the smaller the hook, which is the reverse of regular hook sizing.
Source: Craft Yarn Council's www.YarnStandards.com
How do I know which yarn to buy?
Be sure to pick the weight of yarn noted in your pattern.
Feel the different yarn in that weight range. Pick the one that feels the best to you and that you think you will enjoy working with.
Check the laundering instructions on the yarn and make sure it is appropriate for the item you are making (i.e., do you want to be able to machine wash it?) .
Other Notions
Here are a few other handy tools you might want to have on hand:
tape measure
stitch markers
tapestry needle
scissors
paper and pen
That covers the basics on hooks and yarn. Please feel free to leave me a comment with any questions you may have, and I will do my best to answer them.
Are you all ready to continue? See Lesson 2 — Getting Started.