Cyndi Byars created this amazing Hat Size Chart with hat sizes from preemie through adult. It's such a great resource and takes the guesswork out of hat sizing for crochet and knit hats. That means you can customize any hat pattern to the exact size you need!
The 4-page printable includes a crochet hat size chart that provides average measurements for hats ranging in size from preemie to adult. But the best part is that it also includes hat size templates for working the crown and height of every size. That way you can just compare your piece to the templates for the correct size … no need to measure!
Printable Hat Size Chart – Preemie through Adult
To download the free hat measurement guide, just click on the image below or the text below the image. To ensure accurate sizing of the hat templates when printing, be sure to set your print settings to 100% or actual size, not fit to page or scaling.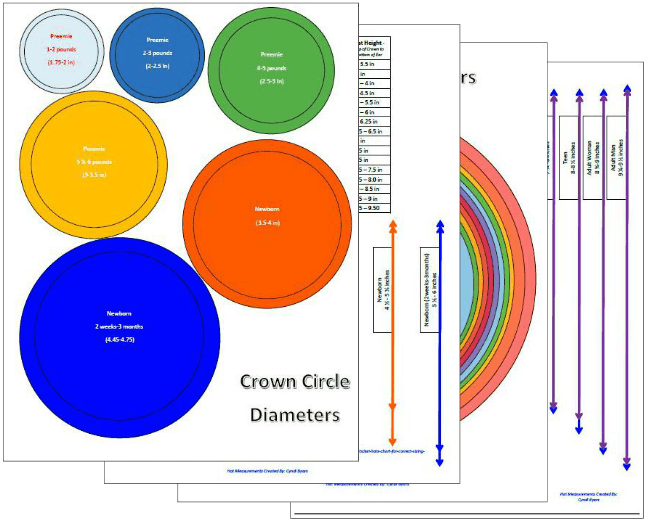 (click here ->) Hat Measurements by Cyndi Byars
How to use the hat sizing Guide
Once you have downloaded and printed the size charts, you will find a series of circular templates for hat crown diameters, as well as a size chart and templates for hat heights. For example, the following chart provides the average head circumferences for each age, followed by the suggested hat circumference, hat crown diameter, and hat height to fit that head size.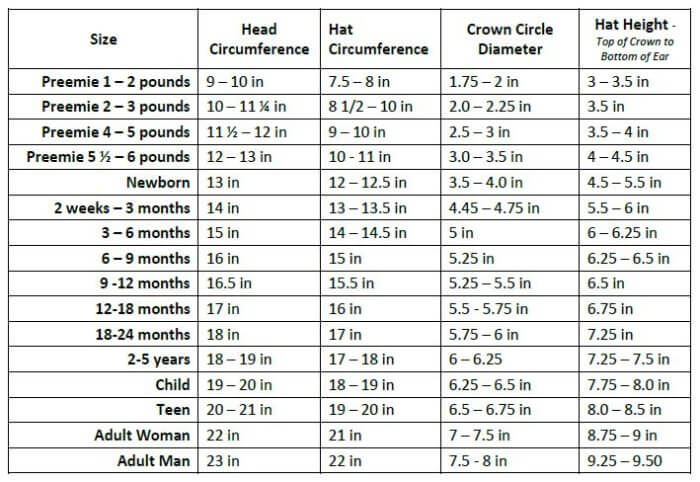 You can use the chart above on it's own for all your hat sizing, along with a measuring tape of course, or you can keep things super simple and just use the circular hat templates as a guide for proper sizing (see below).
How to use the Circular hat templates
Each circular template represents the crown size you need to increase to for that particular hat size. For example, if we wanted to crochet or knit a hat for newborn, we would stitch our flat circle until we reach approximately 3.5 – 4 in. across, or until it matches the size of the template.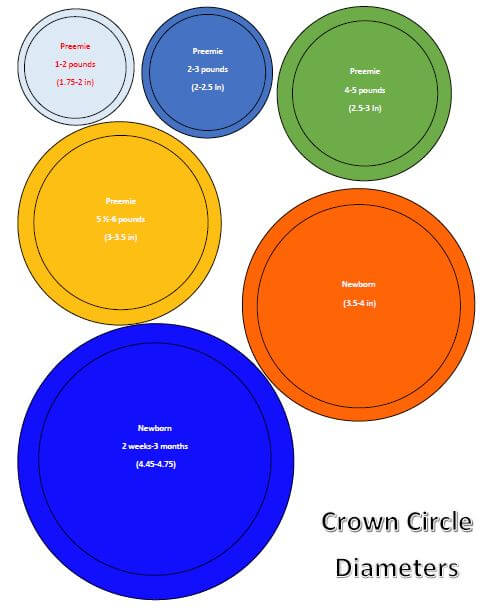 Getting the Proper Hat Height
Then we can stop increasing and work evenly (that is, no more increasing) until we reach the hat height indicated in the hat height templates, in this case 4.5 – 5.5 in.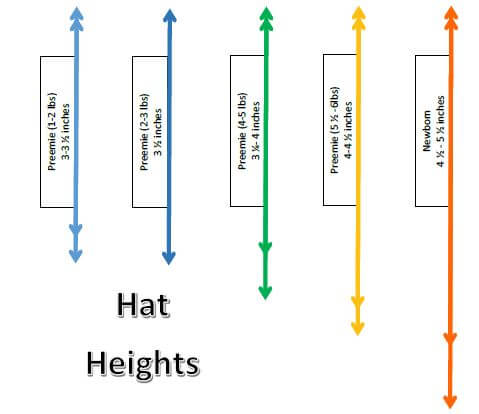 Reader Tip!
And here's a helpful tip! A few readers mentioned that they printed out and laminated the templates and used a key ring to keep them together and handy in their project bags. So smart!
Ready to try it out?
Try the crochet hat size chart out yourself with one of these free hat patterns here or click on one the choices below and customize it to any size you need …
A huge thank you to Cyndi Byars for agreeing to share her Hat Size Chart with the Petals to Picots community!!