This Forked Cluster Stitch crochet dishcloth pattern creates a beautifully textured and reversible design. As the name suggested, it is worked in rows of forked cluster stitches alternated with rows of single crochet. The single crochet rows are also worked in the back loops only to provide an additional element of detail.
As with my other free crochet dishcloth patterns, this forked cluster dishcloth provides a wonderful opportunity to learn a new stitch while enjoying a quick and portable project.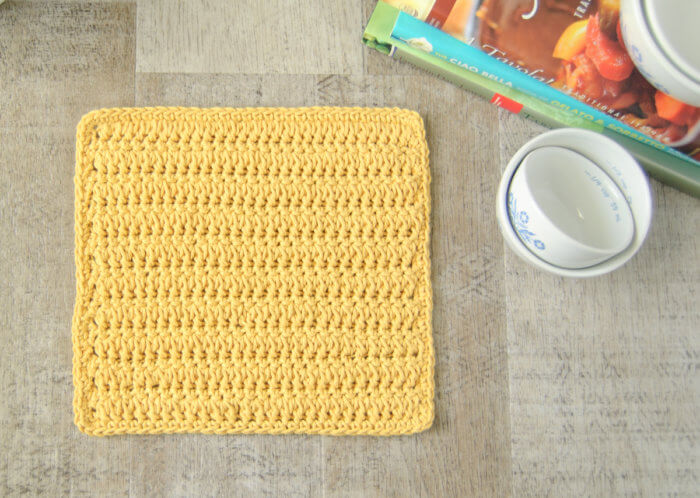 Forked Cluster Stitch Crochet Dishcloth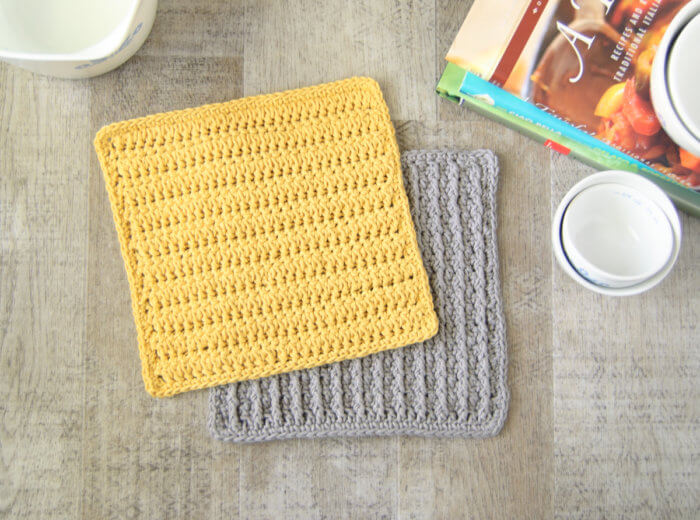 Here is what you will need:
Notes:
Although the yarn I used (Knit Picks Dishie) is considered a worsted weight yarn, I find it to run a little thinner than other yarns in the same weight category. I liked the result a G-6 / 4.0 mm crochet hook for this yarn. If using a heavier yarn, adjust hook size.
Finished dishcloth measures approximately 8 in. x 8 in.
Gauge: 14 sc = 4 in.
Special Stitch: Forked Cluster Stitch (Fcl) – Yarn over and insert hook into specified stitch, yarn over and draw up a loop, yarn over and insert hook into next stitch, yarn over and draw up a loop (5 loops on hook), yarn over and pull through 3 loops twice. Note that subsequent Fcl begin in the same stitch as the second leg of the previous Fcl.
Add this pattern to your Ravelry library.
Pattern
Ch 32.
Row 1: Work 1 Fcl in 4th chain from hook (skipped chains count as dc) and each stitch across, work 1 dc in last stitch (same st as last leg of last Fcl), turn — 30 sts.
Row 2: Ch 1 (does not count as stitch here and throughout), work 1 sc in the back loop only of each stitch across, turn — 30 sts.
Row 3: Ch 3 (counts as dc here and throughout), work 1 Fcl in next stitch and each stitch across, work 1 dc in last stitch, turn — 30 sts.
Rows 4 through 19: Repeat Rows 2 and 3.
Click here to reference Crochet Stitch Chart Symbols.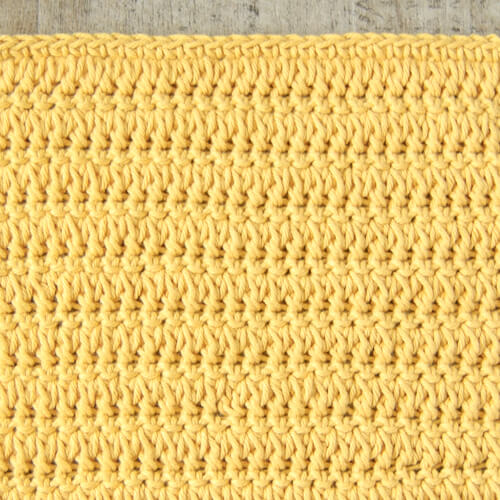 Edging
Since this stitch pattern is reversible, there is really no wrong side or right side. You can pick the side you like best to face you as you work your edging or just start your edging right where you left off.
Round 1: Ch 1, work single crochets evenly around dishcloth, working 3 sc in each corner.
you may Also enjoy …
Browse my full gallery of free crochet patterns here.