I have a handy yarn hack to share with you today! Keep your yarn from turning into a tangled mess while in use, in your bag, or in storage with this super simple DIY yarn cozy. All you need is an old pair of pantyhose or socks and a pair of scissors!
Why Use a Yarn Cozy?
A yarn cozy, also sometimes called a yarn sock or yarn sleeve, is great because it stretches around your ball of yarn and gently hugs it, keeping your wound nicely and clean while you work. If you pull your yarn from the center, it also compresses the ball gently as the center hollows without letting the yarn ball collapse.
How to Make Your Own DIY Yarn Cozy
First, pick a pair of pantyhose, stockings, or socks that still have a fair amount of elasticity. Lay it out in front of you and cut tubes of from the legs … that's it! Now just use those tubes around around yarn cakes or any kind of center pull skein. This helps keep the outer yarn end from unraveling and getting tangled with your working end.
Such a lifesaver!
Rather Just Buy One?
So you like the idea but don't want to make one. No worries, there are some very cute yarn cozies already made for you. You can check your local yarn shop for their selection or check some out on Etsy. I'm especially loving this adorable alpaca yarn sleeve I found on Etsy.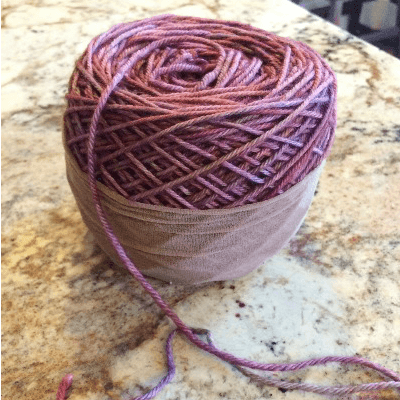 Now that you've tamed your yarn it's time to find your next project! Check out my free crochet patterns here or my free knitting patterns here.