This crochet rose pattern is so super easy … just two simple rows and you're done! It's perfect for adding accents to your home decor or wearable accessories. Crochet up a bunch along with some buds and leaves to make a whole bouquet or use them to decorate a wreath (learn how to crochet a rose wreath at the end of this post). There are so many possibilities.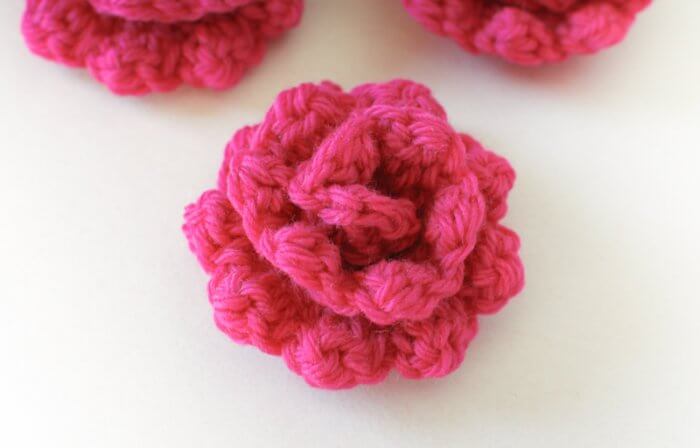 When designing this crochet rose petals
The I wanted to crochet rose petals that had dimension
Crochet Rose Pattern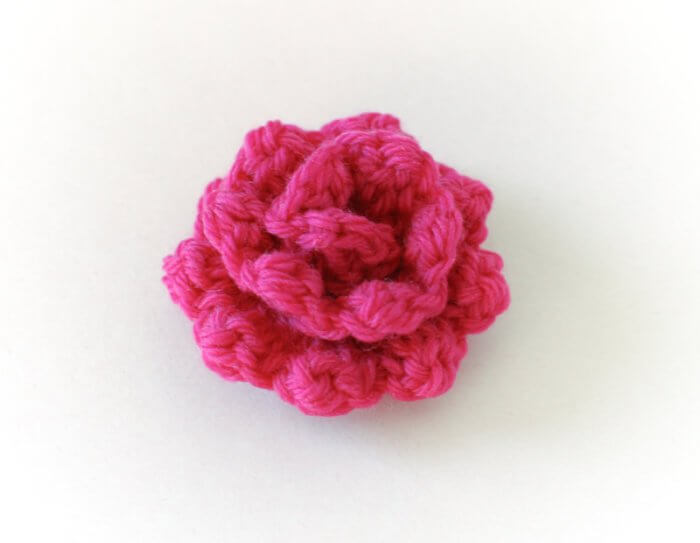 Here is what you will need:
Small amounts of yarn, I used worsted weight yarn for mine
H hook or an appropriate size hook for the yarn weight you chose
tapestry needle and scissors
This pattern is written in U.S. crochet terms and abbreviations. Resources and tutorials you may find helpful in following this pattern: Crochet Abbreviations, U.S. to U.K. Crochet Conversion Chart.
Add this pattern to your Ravelry library.
Special Stitch:
Two double crochet cluster (2dc-cl): Yarn over, insert hook into specified stitch, yarn over and pull up loop, yarn over and pull through 2 loops on hook, repeat once more (3 loops will be on hook), yarn over and pull through all 3 loops.
Ch 28.
Row 1: Work 2 dc in 4th ch from hook, *1 dc in next, 2 dc in next, rep from * across, turn — 39 sts.
Row 2: *Sl st in first st, ch 1 (does not count as st), 2dc-cl in next, ch 1 (does not count as st), Sl st in next, rep from * across, do not turn — 39 sts.

Fasten off, leaving a tail of about 6 inches.
Shaping the Rose and finishing
With the stitches from Row 2 facing outward, take the end with the beginning tail and start rolling into a flower shape, keeping the beginning edge tight (see photo below of how the bottom of the flower should look; beginning tail in the center and ending tail on the outside).
Next, using a tapestry needle, weave your 6-in. tail through the bottom of your flower, making sure to go through all layers of the flower.

Thread your tail onto a yarn needle

Weave needle through flower to secure.
That's it! Now just give a little tug here or there to shape your rose petals as you like and you are all set to start decorating. Check out the fun project idea below!
Crochet Rose Heart Wreath
Create a whole wreath of crochet roses! I originally made this wreath as a Valentine's Day decoration but loved it so much I kept it up all year long. Scroll down to see how I made it.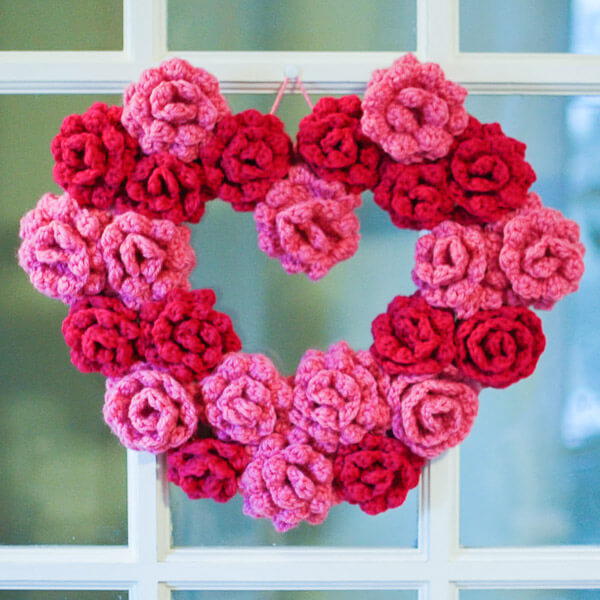 To make the wreath, I cut out a heart shape from a thick piece of cardboard we had laying around. Since then though I have seen foam heart forms in the craft store that I think would be so much easier and sturdier to work with.
Using the crochet rose pattern above, crochet up enough roses to cover your form. I used two coordinating colors of yarn but think it would look nice in one color or even all different colors!
Hot glue the roses to cover the shape. If you are using a foam form, you can also use pins to secure them in place.
If needed, crochet up a few additional roses to fill in any gaps.
See more creative ways fellow stitchers have used this free crochet rose pattern to decorate or embellish on Ravelry here.
Did you make this pattern? Show it off on Instagram and tag me @petalstopicots
Find more free crochet flower patterns here.