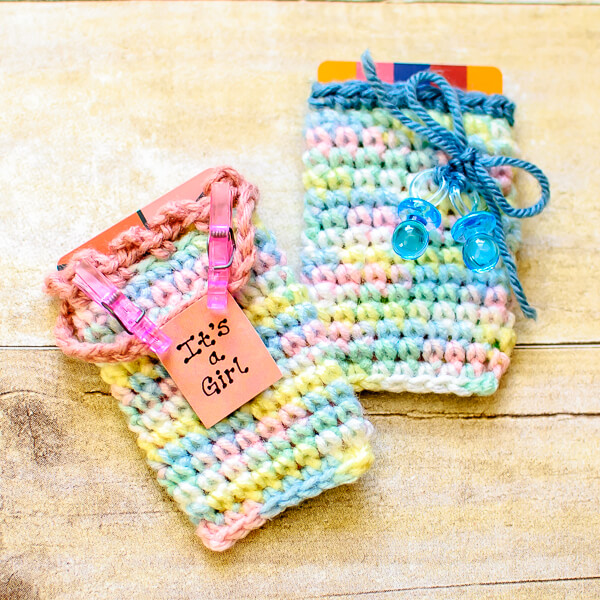 Crochet gift card holders are a great way to add a handmade or more personal touch when giving a gift card. I love that the recipient can get exactly what they want and need and still now I put time and thought into making the gift feel special and personal. The crochet gift card holders I made here are personalized for a baby shower, but with a quick change of yarn color and finishing touches the gift card holders could be embellished to work for any occasion.
Crochet Gift Card Holder Pattern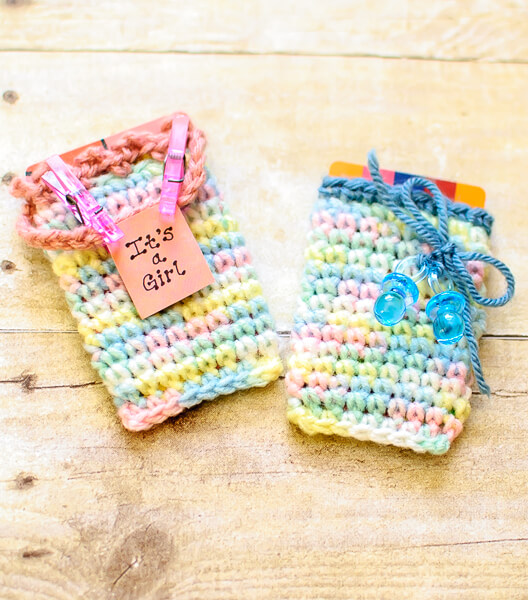 Here is what you need:
worsted weight yarn
H hook
tapestry needle, scissors
Click here to reference the Crochet Abbreviations Chart.
Add this pattern to your Ravelry library.
Finished holder is approx 3 ½ in. high by 2 in. wide and should fit standard sized gift cards.
Card Holder Body
Ch 16, Sl st in furthest ch from hook to form a ring, do not turn.
Round 1: Ch 1 (does not count as st here and throughout), work 1 sc in same ch as join and each ch around, join — 16 sts.
Rounds 2 through 13: Ch 1, work 1 sc in same st as join and each st around, join — 16 sts.
Fasten off.
Crochet Edging
With a coordinating color yarn, edge the holder as desired. Here are the two edging options I used.
Scalloped Border: Ch 1, beginning in same st as join, *work 1 sc, ch 3, skip next st, rep from * around ending with a slip st in first sc of round.
Single Crochet Border: Ch 1, work 1 sc in same st as join and each st around, join.
Fasten off, weave in ends.
Finishing
To close bottom of holder, turn piece around so that Row 1 is now on top, flatten cylinder; working through the unused loops of the beginning chain, pull up yarn in first loops, ch 1, work 1 sc in same loops and each pair of loops across. Fasten off and weave in ends.
Now all the is left is to add a little embellishing if desired. Add a pretty bow or ribbon, attach a piece of candy, or any way use wish to personalize your gift card holder. I found these cute little baby decorations on clearance at the craft store.