Of course when my daughters saw my medallion beaded earrings they wanted a pair of their own. I should know by now that I should just make three of everything. Luckily, I love doing this!For them I envisioned a pair that was smaller and daintier. I basically followed the same pattern as for mine, except I only worked the first round. I think they came out perfect!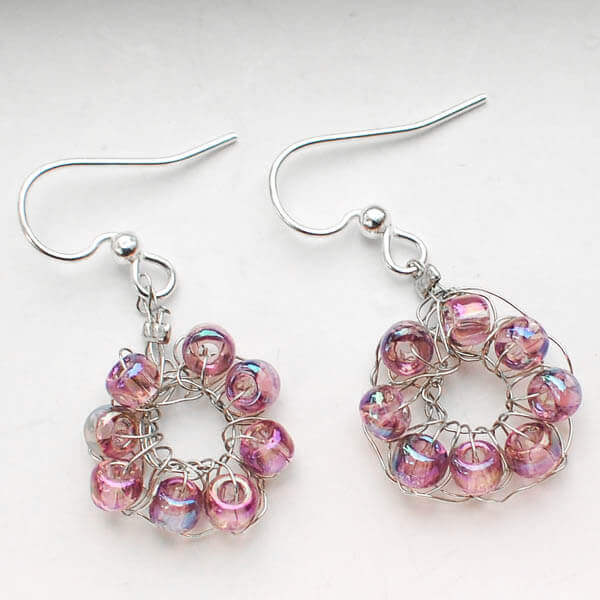 Small Beaded Crochet Wire Earrings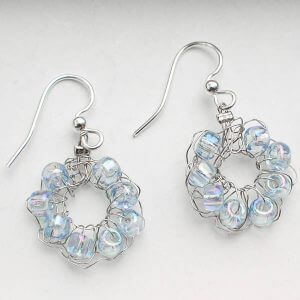 Here's what you need:
30 gauge Nickel Silver wire
D hook
16 – size 6/0 seed beads
a pair of ear wires
2 crimp beads
Resources and tutorials you may find helpful in following this pattern: Crochet Abbreviations, U.S. to U.K. Crochet Conversion Chart.
Special Stitches:
Beaded Single Crochet (bsc): Insert hook into specified stitch and draw up a loop, move bead up the wire to rest next to hook, yarn over and pull through 2 loops on hook.
(Make 2)
Thread 8 beads onto your wire.
Ch 2.
Round 1: Ch1 (does not count as stitch), work 8 bscs in 2nd ch from hook, join — 8 sts.
Fasten off leaving a tail of approx. 6 inches.
Add a crimp bead to the tail. Weave tail through the ear wire and back through the crimp bead. Flatten crimp bead to secure tail. Cut tail right after crimp bead.