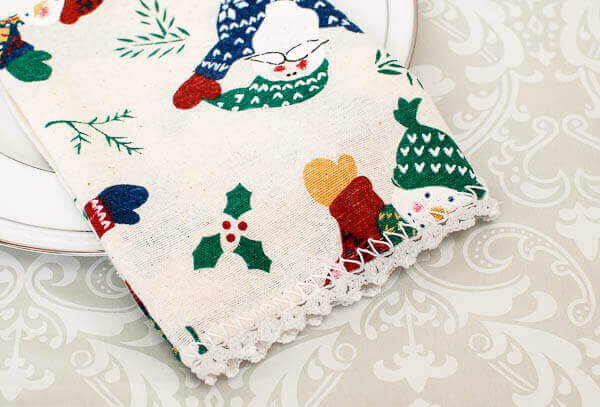 Christmas is quickly approaching and our holiday crafting time is getting tighter … but these Lace Trimmed Napkins are so quick and simple that you can easily stitch up a set for your own holiday table or to give as gifts. Best of all, you can use the edging pattern on just about any fabric napkin set you like, no matter what the season!!
Lace Trimmed Napkins Crochet Edging Pattern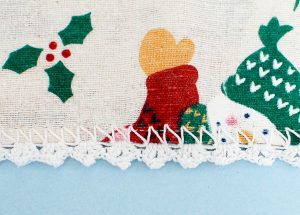 Here's what you will need:
cloth napkin
size 10 crochet thread
2.5 mm hook
sewing needle and scissors
Add this pattern to your Ravelry library.
If your napkins don't already have stitching around them that you can crochet into, you will want to use a needle and thread to work a blanket stitch around them. If you are not familiar with blanket stitch, you can follow my How To Do a Blanket Stitch tutorial here. If you prefer, an alternate option would be to use a sharp crochet hook to edge the blanket as I showed in my Quick and Easy Blanket Edgings post here. Work an odd number of blanket stitches along each edge of your napkin that you would like to crochet.
Click here to reference Crochet Abbreviations.
Picot: Chain 3, slip stitch into third chain from hook.
Edging: Pull up a loop in first blanket stitch. Ch 3 (counts as dc), work [1 dc, picot, 2 dc] in same st, skip next st, *work [2 dc, picot, 2 dc] in next st, skip next st, repeat from * across ending with [2 dc, picot, 2 dc] in last stitch. Repeat on each napkin edge if desired.