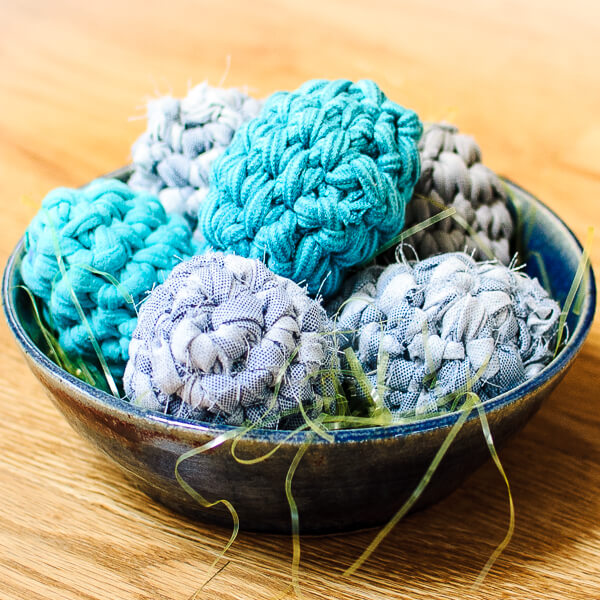 I love the shabby chic vibe these fabric eggs give to my Easter decor … such a cozy, cottagey feel that I just love! And best of all, you can upcycle old T-shirts or scrap fabric you have right on hand for this Easter egg pattern. You can see my tutorial on How to Make Fabric Yarn here or see this How to make T-shirt Yarn tutorial from Repeat Crafter Me. And of course, if you have nothing on hand to upcycle, you can buy T-shirt yarn already made. I included some buying links at the bottom of the post for you to check out.
'Shabby Chic' Fabric Easter Egg Pattern
Here's what you will need:
a ball of T-shirt yarn or fabric yarn
a large hook, I used a size N for these
scissors
Click here to reference Crochet Abbreviations.
Eggs are worked in unjoined rounds. It is helpful to use a stitch marker to keep track of rounds.
Make a magic ring.
Round 1: Ch 1, work 6 sc in ring — 6 sts.
Round 2: Work 2 sc in each st around — 12 sts.
Rounds 3 through 5: Work 1 sc in each st around — 12 sts.
(For fabric eggs or extra bulking fabric, add an extra round of 1 sc in each st)
Round 6: Sc2tog around — 6 sts.
Fasten off leaving a long tail to weave opening closed. Weave in ends.
 Enjoy!
Interested in making this Fabric Easter Egg Pattern? You can also help support my blog by purchasing through the affiliate links below …
Click here for more free Easter crochet patterns …