I love afghans! There is nothing like curling up under a soft cozy blanket, especially one that that has been lovingly made stitch by stitch.
I recently made this afghan, which I like to call my Kaleidoscope Afghan because of all the beautiful colors. I first got the idea to make this when I saw Amy Schwab's Fireworks Surprise Square on Ravelry … it is gorgeous! But I didn't want just a square, I wanted a whole afghan like that. So, I played with the pattern to make it a rectangle.  It has fast become a family favorite!
I was lucky enough to score Amy's pattern when it was a freebie, but now that it is for sale, I still think it is well worth the price. Want to try your hook at an afghan like mine? Change the beginning chain and round as follows …
Ch 11.
Round 1: 1 dc in 5th ch from hook (cts as 1st V-st), ch 2, V-st in same ch, ch 1, sk next 2, V-st in next, ch 1, sk next 2, [V-st, ch 2, V-st, ch 2, V-st] in last ch; working along opposite side of chain, ch 1, sk 2, V-st in next, ch 1, sk 2, V-st in same ch as 1st st made, ch 2, join in 3rd ch of beginning ch 4, fasten off.
Continue working rounds as in Amy's pattern, but be sure to increase the stitch counts on the long sides of the rectangle as you increase in size. One thing to note … as happens many times when increasing a motif pattern, as the size increased, the corners can sometimes become a little skewed. When I thought I started to see this happen, I remedied it by working [V-st, ch 1, V-st] for the corners for a few rows and then continuing as usual.
Voilà! I love it!
I loved it so much that I then made this
Hexagon Afghan
. I shared the free pattern and tutorial
here
if you want to give it a try.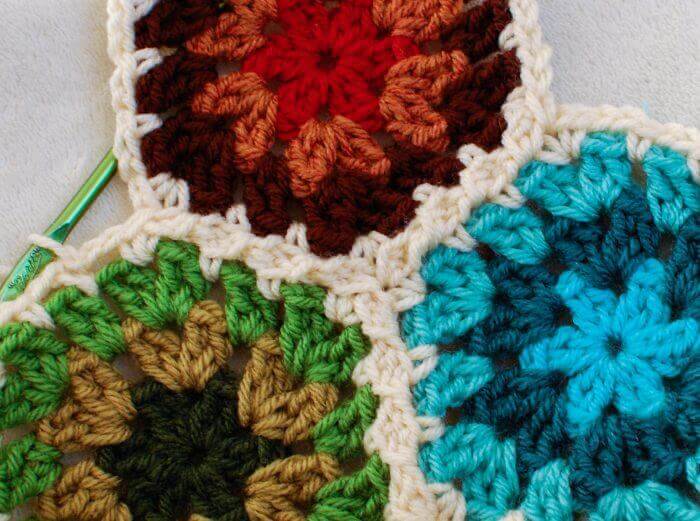 And then my latest love is this African Flower Coverlet I am working on. You can get the free pattern and joining "how to" here.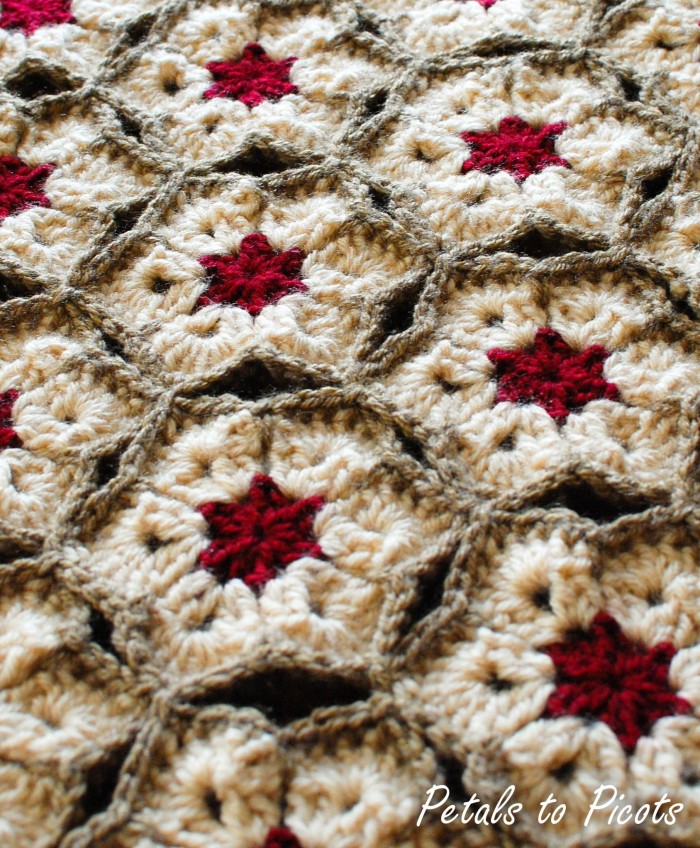 Want to see some of my favorite afghan patterns? I am absolutely in love with these two patterns from the very talented Susan Carlson from Felted Button. They are definitely on my "must buy" list …
This gorgeous and colorful Star Fruit Blanket …
And this absolutely serene Breath of Heaven Blanket …
What are some of your favorite afghan patterns?