I think we have already established that I love yarn. So what better way to decorate for Christmas than with yarn! These yarn ball ornaments are super simple to make, and I love the way they came out. And, of course, the first thing I wanted to do was share them with you.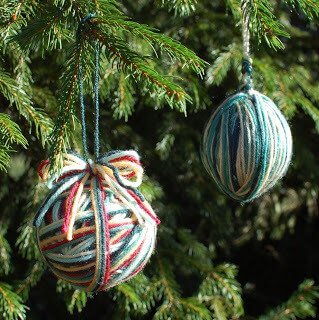 What you will need:
A cardboard or Styrofoam ball from your local craft store
3 to 5 different colors from your scrap yarn stash
Hot glue gun
What to do: 1. Add a bit of hot glue to the ball and start wrapping the yarn around. You can wrap in all different directions to maintain a round shape, or you can wrap the yarn in one direction to form more of an angular shape.
2. When you have covered the whole ball, add a dab of glue to secure the yarn and weave in ends.
3. To finish the ornament off, cut a length of yarn from each skein that can easily wrap around the ball about 6 times. Holding the center of the strands, wrap around the ball until the strands meet (this will be the bottom of the ornament), then give the ball a 90 degree twist and wrap the yarn back to the top of the ball. Tie a knot to secure.
4. I finished off the balls in two different ways. I tied a bow on one before using a strand of yarn to create a loop for hanging. On the other ball, I made a series of knots to add a little more height. Next, I wove in the strands from one side back and forth through the knots. Then, I used the yarn from the other side to create a loop for hanging and wove in those ends, leaving the loop the length desired.
Finito!