A Windmill Graph Pattern to Knit or Crochet! I designed this pretty windmill scene while reminiscing about my grandmother's house filled with little windmill figurines, blue Delft pottery, and yummy spiced cookies. It can be used as a table mat, wall hanging, or even an afghan square. If you add some extra rows it would even make a great decorative hand towel! Best of all, the graph can easily be used for crochet, knit, and Tunisian crochet projects. I can't wait to see all your pretty windmill projects!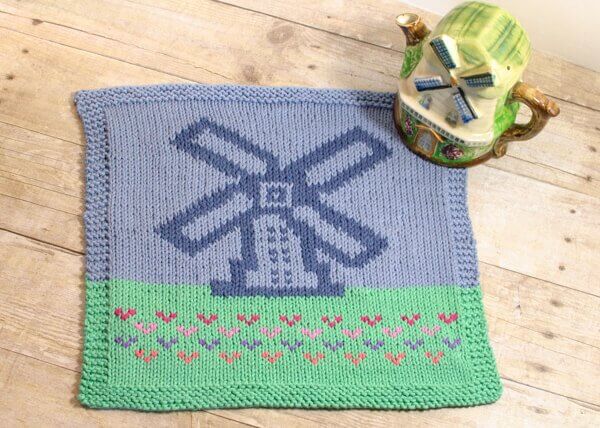 Windmill Knit Graph Pattern
Here is what I used:
7 colors Debbie Bliss cotton DK (1 ball each); listed in the order they first appear in the chart):

Mint 13077
Coral 13064
Mallow 13074
Candy 13073
Fuchsia 13058
French Navy 13082
Steel Blue 13051
Add this pattern to your Ravelry library.
Finished pattern as written here measures approximately 13 in. × 13 in. (33 cm × 33 cm).
Gauge = approximately 20 sts and 28 rows per 4 in. (10 cm).
Notes:
Carry colors loosely across the back of your work (the carried yarn is called a float) tacking longer floats as necessary.
Follow chart rows from the bottom up. Odd rows are knit and followed from right to left (right side of your work). Even rows are purled and followed from left to right (wrong side).
Cast on 61 sts.
Work 6 rows of garter stitch (knit every row).
Odd rows (RS): Knit 4, knit row of chart following from right to left, knit 4.
Even rows (WS): Knit 4, purl row of chart following from left to right, knit 4.
Continue working odd and even rows as written until chart is complete.
Work 6 rows of garter stitch.
Bind off and weave in ends. Block if desired.