Description
I combined my love of planning with my love of crochet and this printable crochet project planner is the result!!
This printable crochet project planner is my go-to reference and organizer for all my crochet and designing projects and it's packed with my most used tools and references.
The Crochet Project Planner is a valuable tool for beginner and advanced crocheters alike. The planner is completely customizable! Print the whole planner or just the pages that meet your current needs and arrange the pages in an order and system that works best for you.
Best of all, new pages are just a print click away providing endless refills for your planner.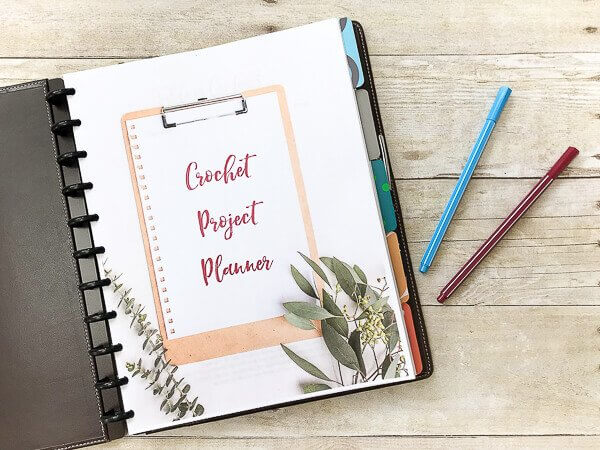 What's in Printable Crochet Project Planner?
A pretty cover page … because ever planner deserves a pretty cover!
A formatted table of contents page ready to be filled in … you decide the layout of your planner.
Project planner pages … record your hook and yarn sizes, pattern source, and other relevant information.
Design templates for every project … standard graph and dot grid paper; vertical striping planner; and circular, triangular, and hexagon design grids.
Handy crochet reference and resource pages … yarn weights and fiber types, hook sizes and conversions, stitch abbreviations, stitch chart symbols for both standard and Tunisian crochet, laundry symbol references, and more!
Inventory tracking for the hooks and yarn you already own.
Handy term and measurement conversions to make it both U.S. and U.K. friendly.
Cheat sheets on turning chains, hat formulas, standard sizing and yarn requirements for commonly crocheted items, and more!
Measurement record to track sizing information for the loved ones you crochet for most.
Gift labels in three colors with most commonly used laundering suggestions.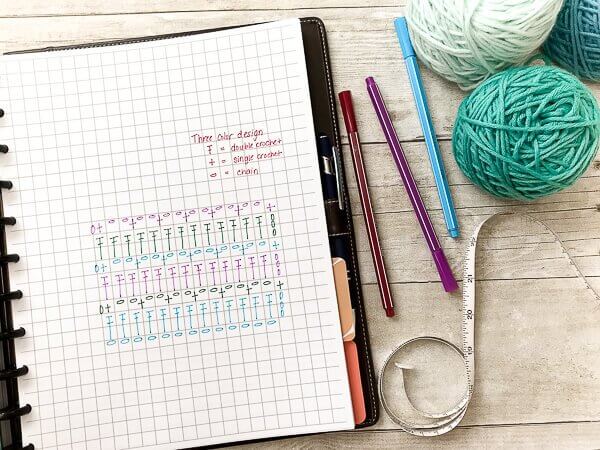 Planner Specs
The planner is formatted to print on standard letter size paper of 8.5 in. x 11 in.
Margin allowances are set to accommodate hole punching and double sided printing.
Perfect for standard three ring binder, the Arc system (as shown here), or you can even print off your desired sections and bring to an office supply store for binding.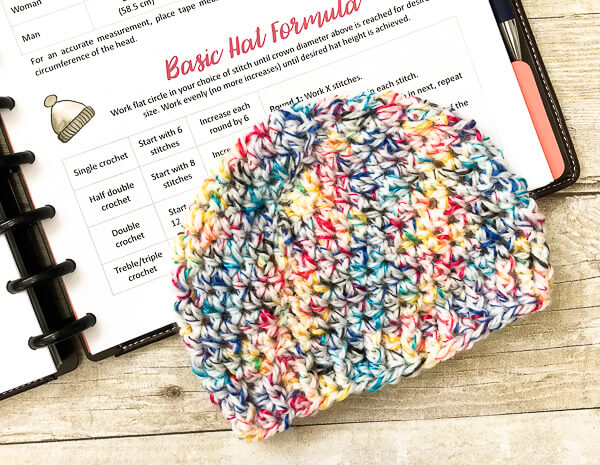 Download and Print Tips
A .zip file will be available for download once payment is received.
Unzip file for planner files. Planner is in pdf format. Adobe Reader can be downloaded free online at www.adobe.com.
When printing, be sure to choose Actual Size in the size options of your printer settings.
When choosing double sided printing, select Flip on Long Edge.
* * * * *
Reviews From Happy Customers …
I love this planner! I am using it consistently to plan my time! ~ T. Tilson
I love this project planner. What did I do before? I can't even remember! ~ R. Dehn
This is great, I can copy off what I want and add on to the planner as needed. ~ hermitcottagegarden
What a great crochet reference/planning tool! If this doesn't get and keep your crochet projects organized, I don't know what will!! Thanks for putting this together! ~ D. Rodwell
Excellent! ~ T. Matson
Great crochet planner with everything you need! ~ T. Furnice
Copyright © 2018 by Kara Gunza. All rights reserved.
This planner is for personal use only and may only be reproduced and stored for such use. No part may be reproduced for distribution or sale, posted online, or transmitted in any form or by any means.