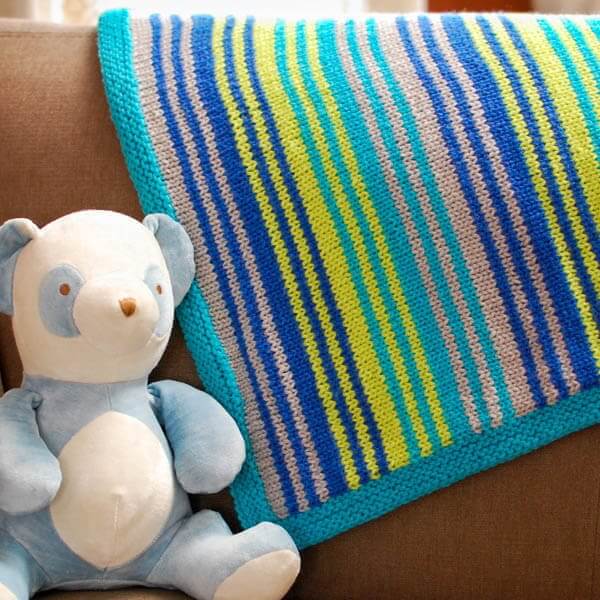 My son is old enough to start wanting "big boy" things but still loves the size of his baby blanket for cuddling up and dragging around. I thought a fun stripe pattern would do just the trick for a blanket that could easily stay of favorite way after those baby days are long gone. And best of all it can be easily adjusted to any size you desire.
"Grow With Me" Knit Blanket Pattern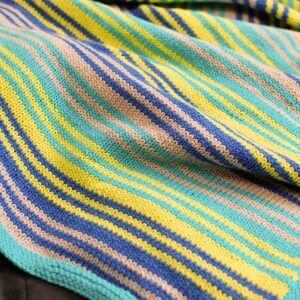 Here's what you will need:
9 balls DK or light worsted weight yarn, approximately 173 yds each. 

I used Lion Brand Modern Baby yarn in the following colors:

CA: 3 balls of Turquoise [148]

CB: 2 balls of Grey [148]

CC: 

2 balls of Blue [109]

CD: 2 of Chartreuse [194] 

US 8/5.00 mm needles on a 40 in. circular cord
yarn needle and scissors
Add this pattern to your Ravelry library.
Finished blanket as written here measures approximately 32 in. × 36 in., but can be easily adjusted to any size.
Beginning Edging
With CA, cast on 142 sts, or as many as needed to reach your desired width.
Rows 1 through 8: Garter stitch (knit every row).
Body
The body of the blanket is worked in stockinette stitch (knit odd rows, purl even rows) in the following color sequence.
Rows 9-12: CB
*Rows 13-14: CC
Rows 15-16: CB
Rows 17-18: CC
Rows 19-20: CB
Rows 21-24: CC
Rows 25-26: CD
Rows 27-28: CC
Rows 29-30: CD
Rows 31-32: CC
Rows 33-36: CD
Rows 37-38: CA
Rows 39-40: CD
Rows 41-42: CA
Rows 43-44: CD
Rows 45-48: CA
Rows 49-50: CB
Rows 51-52: CA
Rows 53-54: CB
Rows 55-56: CA
Rows 57-60: CB
Repeat *Rows 13 through 60 four more times or until blanket reaches your desired length.
Ending Edging
With CA, work 8 rows or garter stitch (knit every row). Bind off.
Side Edgings
With CA, and with right side of blanket facing you, pick up and knit 2 stitches for every 3 rows along edge of blanket. Continue working garter stitch for next 7 rows (knit every row), bind off. Repeat on opposite edge of blanket. Weave in ends.
Interested in making this project?
You can also help support my blog by purchasing through the affiliate links below …