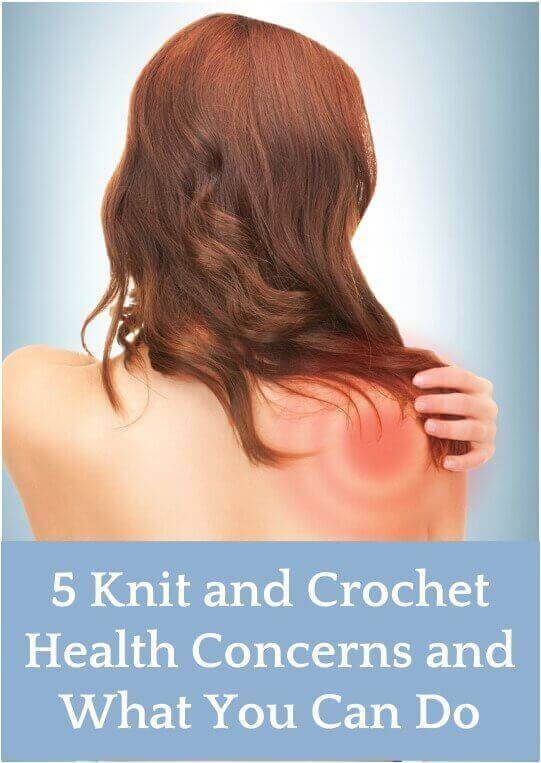 ©Dolgachov via Canva.com
Knitting and crocheting can provide such tremendous health benefits, both mentally and physically, not to mention great pleasure as well. In fact, in Kathryn Vercillo's book, Crochet Saved My Life: The Mental and Physical Benefits of Crochet, she documents the health benefits crochet and crafting can provide and how it has helped people heal from a myriad of conditions including depression, PTSD, schizophrenia, chronic pain conditions and more. But along with all the benefits crochet and knitting provide, we still need to be aware of some of the wear and tear it can wreak on our bodies. Here are 5 knit and crochet health concerns and what you can do to combat them:
Carpal Tunnel Syndrome
Neck Pain
Back Pain
Eye Strain
Weight Gain
Carpal Tunnel Syndrome
Many crocheters and knitters complain about pain, numbness, or a dull aching in their fingers and wrists. This can be caused by the repetitive hand movements involved and from the tension of holding a hook or needle. For many, this manifests as and is diagnosed as carpal tunnel syndrome or repetitive strain injury. So what can be done to help? Take frequent breaks where you put down the hook or needles and relax your hands. Do some hand stretches especially geared to help carpal tunnel and repetitive strain injury. You can try the ones in these links …
Stretching Exercises for Preventing Carpal Tunnel Syndrome
And perhaps even try a specially designed ergonomic hook to limit hand tension as you crochet, or you can even make one with polymer clay like I did here. Of those listed below, I have only tried — and can personally vouch for the comfort of — the Addi Swing hooks, but I wanted to give you a selection of what is available (some of the links are my Amazon affiliate links, so you can also help support my blog while shopping 🙂 )
Addi Swing – Ergonomic Crochet Hook
Boye Ergonomic Aluminum Crochet Hook
Provo Craft Crochet Tools
Clover 3672 Amour Crochet Hook Set
Lacis Ergonomic Handle
Comfort Grip Crochet Hook
Neck Pain and Back Pain
Sitting for too long and looking down at your project can lead to some painful neck and back issues. It is important that you practice good posture while working. Here are some guidelines for proper positioning:
make sure you have a comfortable chair with good back support
place your feet flat on the floor and your knees level with or slightly higher than your hips; use a footstool if necessary
sit up straight (no slouching! … I have trouble with that one)
keep your elbows close to your sides and your project in your lap
Even with good positioning it is important to stretch and move around at the first sign of stiffness or tightness. To stretch and relieve tension in your neck, tilt your head back and then side to side. Try rolling your shoulders a few time to loosen them and your upper back. Make it a point to get up and do something else every half hour or hour or so.
Eye Strain
Just like when you are looking at your computer or tablet too long, keeping your eyes focused on your project for too long can lead to eye strain and even headaches. Again, frequent breaks can help. First, be sure you are working under good lighting. You don't want to be squinting at those stitches or your pattern! And be sure to change your focus every 20 minutes or so to something more distant … look out the window, at the TV, focus on a figurine you have in the corner.
Weight Gain
I love to just sit and crochet or knit and listen to my books on tape. I can do it for hours lost in my own little blissful world. But let's face it, crocheting and knitting are very sedentary hobbies, and too much sitting can lead to "crocheter's toosh" as I playfully call it. Sitting too long even zaps energy from you. With my mother's advice passed along in my head — "energy begets energy" — I remind myself to keep moving. Exercise is important for everyone, but especially for those of us who enjoy hobbies that aren't very active. Try to aim for 20 to 30 minutes of brisk exercise every day, whether it be a walk around the block or a stationary bike at the gym. Get up and get that blood pumping! And be sure to drink a lot of water to stay hydrated and keep those cravings at bay.
Hopefully with these simple tips you will be able to keep your body healthy and strong to enjoy many, many years of knitting and crocheting ahead!
Do you have any health tips to share? Feel free to comment below and share how you stay healthy.