Where possible I include links to the products and resources I mention. Some of these links may be affiliate links, which means I may receive a small commission on purchases at absolutely no additional cost to my readers. These affiliate relationships help offset the costs of running this website. You can read my full Disclosure Statement here.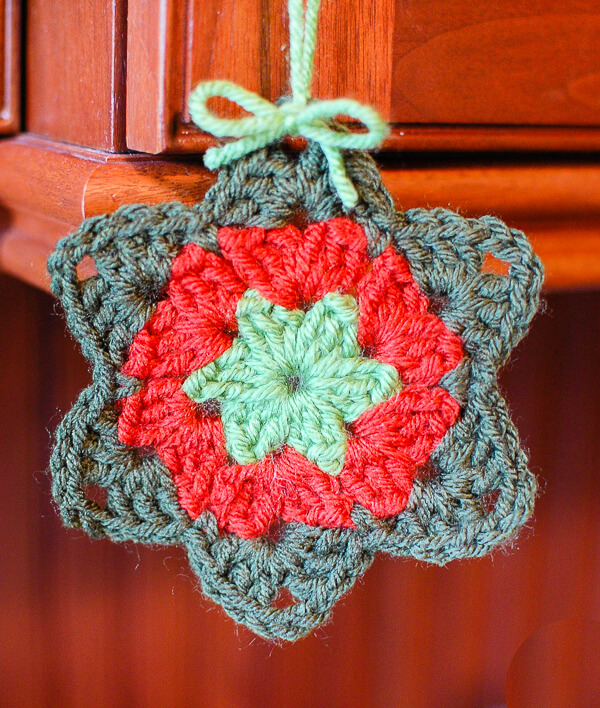 One of the things I love most about blogging is the opportunity it gives me to build relationships with other talented ladies and the chance it gives me to hear your stories.
A few months ago, one of those talented ladies, Lori, sent me an e-mail where she shared with me a wonderful memory of her grandmother and gifted me a pattern. And to keep the spirit of her message going, I asked her permission to gift it to you all as well.
Throughout the year, Lori's grandmother saved little balls of yarn scraps in a Kraut jar next to the chair where she crocheted. All the grandchildren would watch the jar of brightly colored yarn scraps grow and grow as they waited excitedly for Thanksgiving when Grandma would gather them around and teach them to make granny squares. Grandma would say "Haken op donderdag!" "Een granny deKen"! "Crochet on Thursday! A Granny Blanket!"
When dinner was finished and the dishes were clean, Grandma would give each child five small balls of yarn from the special Kraut jar and help them begin their squares. Then she would encourage them to be creative and make it there own. They played with colors, mixing them into different variations and amazing themselves and each other with the colorful combinations they came up with.
Small little squares filled the room. The grandchildren loved this time and thought it was just fun time spent with their grandmother. Lori and her siblings didn't know, until many years later, that grandma and her lady friends at church lovingly sewed all the grannies together into blankets for people who needed help, either through hard times or illness. Those little grannies were not only Grandma's gift of love to her grandchildren, but also her gift to others.
Lori worked up a little granny star motif for me and in her note to me she wrote,
"It is my gift to you to use, and as Grandma used to say, 'Make it your little gift of love'. Grandma gave us this little gift and now it can be many! "
So, in the spirit of Lori's grandmother, I added my own touch to the crochet granny star and wrote up the pattern to share with you. I hope you enjoy it as much as I do.
Thank you so much, Lori, for your sweet gift and for sharing your story!
Crochet Granny Star
Here's what you need:
worsted weight yarn (from your Kraut jar!)
H hook
tapestry needle
Click here to reference the Crochet Abbreviations Chart.
Click here to add this pattern to your Ravelry queue.
With first color, make a magic ring (as an alternative to the magic ring, you can ch 4 and join with a slip stitch in furthest chain from hook to form a ring).
Round 1: Ch 3 (counts as dc here and throughout), work 2 dc in ring, ch 1, *3 dc, ch 1, rep from * 4 more times, join and fasten off — 18 sts.
Round 2:  Join next color in any ch-1 sp, ch 3, work [2 dc, ch 2, 3 dc] in same sp, ch 1, *[3 dc, ch 2, 3 dc] in next ch-1 sp, ch 1, rep from * 4 more times, join and fasten off — 36 sts.
Round 3: Join next color in any ch-1 sp, ch 1, work 1 sc in same sp, [3 dc, ch 3, 3 dc] in next ch-2 sp, * 1 sc in next ch-1 sp, [3 dc, ch 3, 3 dc] in next ch-2 sp, rep from * 4 more times, join and fasten off — 42 sts.
Ana from
Lana & Hilos
has created a helpful stitch diagram for this Granny Star. Click
here
to open the diagram.
 Click here for more of my free Christmas patterns.