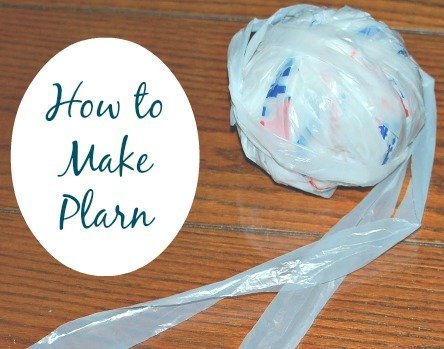 One of my many New Year's resolutions is to try to find more ways to be a little kinder to the earth. Although I try to use reusable bags whenever I go grocery shopping, I inevitably forget once in awhile and end up with a stash of plastic bags. So what better way to use them than to make plarn!

Plastic + Yarn = Plarn

Plarn is made by cutting plastic grocery bags into strips and tying them together to use for crocheting items such as doormats, tote bags, knee pads for gardening, dish scrubbers, storage baskets, coasters, beach bags, camping mats, and almost anything else you can think of.  Some organizations, such as the Community Action of Southern Kentucky, are even encouraging their volunteers to use plarn to make bedrolls for the homeless.  Now, I said it is good for almost anything.  Plarn really isn't ideal for clothing, however.  Besides that fact that it would probably not be the most comfortable thing to wear, it also doesn't breath well.  Plarn also shouldn't be used for anything that would be used near heat, such as potholders or trivets, because it will melt.

Some of the benefits of using plarn, aside from the positive effects on the environment, are that finished items are surprisingly durable and can be washed in warm soapy water and reused again and again.
How to Make Plarn
First, sort through your plastic bags and discard any dirty or ripped bags to your recycling container.  Now it is time to choose your colors.  You can choose bags of the same color or use a mix of colored bags for a variegated look.  Or you can separate the colors to make different designs by switching colors every few rows.
Next, flatten your bag making sure the sides are tucked in, fold in half lengthwise, then fold in half again.  Once you are comfortable with the process, you can even stack two or three bags before folding to help speed things along.
Cut off the bottom of the bag and the handles and discard to your recycling container.  Then cut the rest of the bag into 1-in. strips.  Each of these strips creates a plastic loop.
Working with two strips, bring one end of the second strip under and through the loop of the first strip. Then bring it over and back through the second loop, gently tug to secure. Continue joining strips to form a continuous strand. Roll into a ball.
That's it! So easy.  Now you are ready to crochet. Need a project now?  Click here for a super-easy grocery tote pattern.