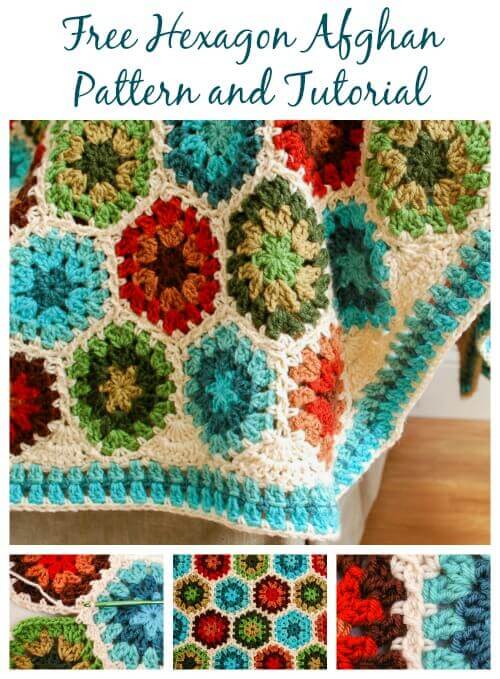 It's been a fun and colorful journey making this crochet hexagon afghan, and I am so glad I got to share the process with you!  Now for the final reveal and recap for those of you who would like to try your hand at one. I have all the links to the patterns and tutorials here to guide you through.
Crochet Hexagon Afghan Pattern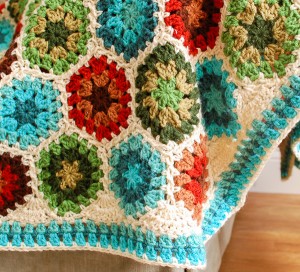 Here's what you will need:
9 colors of worsted weight yarn (approx. 3 skeins of each depending on the size afghan you would like)
H hook
tapestry needle and scissors
Size: The final dimensions of my afghan were 70 in. × 70 in.
Granny Hexagon Crochet Pattern
Make 217 hexagons with the granny hexagon crochet pattern here, alternating colors as you work.

Joining Your Hexagons
I have a bunch of rectangular afghans so thought it would be cool to make this one in the shape of a large hexagon (fun!). You can do this too or join them in any shape you'd like. Click here for my step by step tutorial on joining these hexagons with the Join As You Go (JAYGO) Method. If you would like to join these into a hexagon shape and have made the 217 hexagons, you will have 9 hexagons along each side.

Edging Your Granny Afghan
Now that you are all joined you're ready for your edging. Click here for my Granny Edging pattern that includes filling in the little valleys  between your hexagons.

I am so excited to see all the different colors and combinations you come up with. Feel free to show off your finished afghans on my Facebook page here.