Although this Pretty Picot Snowflake Pattern is only 5 rounds the design appears to be much more intricate. My favorite part of this snowflake is the alternating triangular and picot points. This is the larger of the lacy snowflakes in the 4 snowflake designs I recently shared with you and pairs especially nicely with thie Dainty Lace Snowflake pattern. Make up a bunch to decorate your home, hang in your window, or dress your Christmas tree … they are also great to top off a gift!
Scroll down for this free pattern or get it as part of a Set of 4 Snowflake Patterns eBook, a convenient ad-free pdf download for purchase here in my shop or here on Ravelry.
Pretty Picot Snowflake Pattern
Where possible I include links to the products and resources I mention. Some of these links may be affiliate links, which means I may receive a small commission on purchases at absolutely no additional cost to my readers. These affiliate relationships help offset the costs of running this website. You can read my full Disclosure Statement here.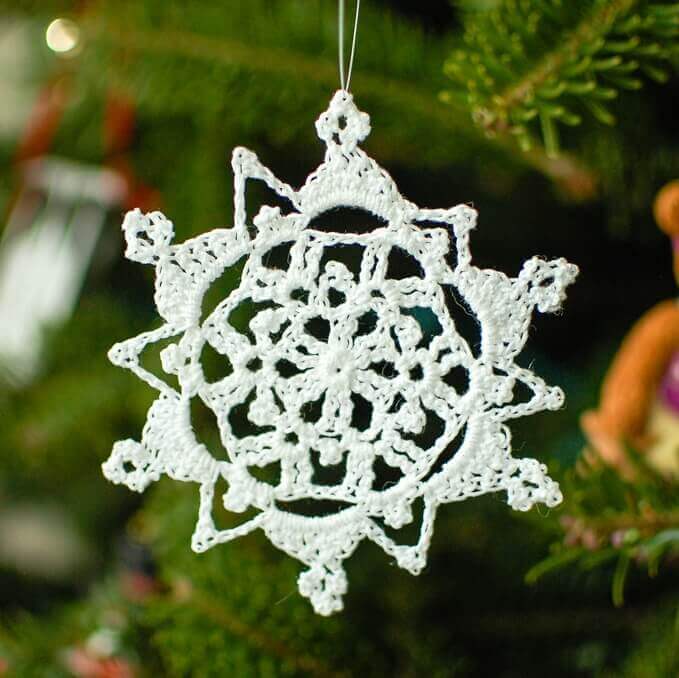 Here is what you will need:
sewing needle and scissors for finishing
Resources and tutorials you may find helpful in following this pattern: Crochet Abbreviations, U.S. to U.K. Crochet Conversion Chart.
Add this pattern to your Ravelry library.
Special Stitches
Picot (p): Chain 3, work 1 single crochet in first chain made.
Triple picot (tr-p): Work 3 picots, slip stitch into base of first picot made.
Finished snowflake measures approx 4 in.
Ch 5 (counts as ch 1 and 1st tr).
Round 1: Work 1 tr in furthest chain from hook, ch 3, *2 tr in same ch as last stitch was made, ch 3, rep from * 4 more times, join in top of beg ch — 12 tr sts.
Round 2: Sl st in next tr, *[1 sc, ch 4, 1 sc] in next ch-3 sp, ch 1, p, ch 1, rep from * 5 more times, join in 1st sc — 12 ch-4 loops.
Round 3: Sl st in next ch-4 sp, ch 4 (counts as tr), [1 tr, ch 3, 2 tr] in same ch-4 sp, ch 3, *[2 tr, ch 3, 2 tr] in next ch-4 sp, ch 3, rep from * 4 more times, join in beg ch 4 — 12 ch-3 loops.
Round 4: Sl st in next tr, *[2 sc, p, 2 sc] in next ch-3 sp, ch 7, skip next ch-3 sp, rep from * 5 more times, join in 1st sc — 6 ch-8 sp.
Round 5: *Ch 3, p, ch 3, [1 sc, 1 hdc, 2 dc, 1 tr, tr-p, 1 tr, 2 dc, 1 hdc, 1 sc] in next ch-7 sp, rep from * 5 more times, Sl st around beg ch 3 — 12 p points.
Fasten off and weave in ends.
Finishing
For best results, block snowflakes after finishing. Pin the snowflakes right-side down onto a blocking mat, making sure to straighten each snowflake point. Using a small paintbrush, apply a thin coat of fabric stiffener over the snowflakes. Let sit until dry or as long as directed on the stiffening product. Once dry, sew a piece of thread through the top of each snowflake and knot the thread to create a loop.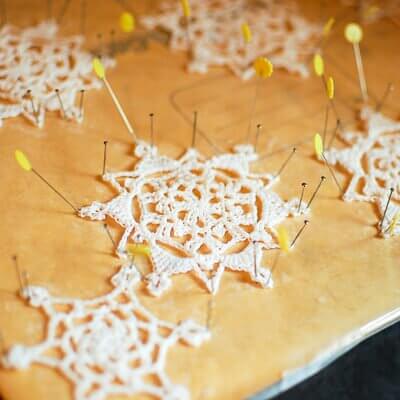 Enjoy!