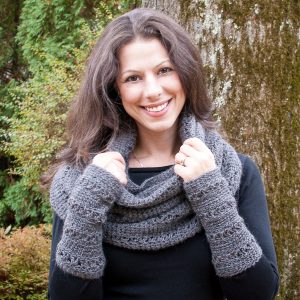 Hello, my friend! I am so glad you stopped by to visit me in my little creative corner of cyberspace!
Let me first introduce myself … My name is Kara. I am a wife and hard working mommy to three great kids. In addition to being a fiber arts blogger, I am also a pattern designer, as well as a crochet and knitting instructor at my local yarn store. This blog is my creative space to share my passion for crochet, knitting, and all things fiber. I have met so many amazingly talented women since I first started on this path, and they continue to inspire me and help me grow. And I hope to get to know you as well!
My love of crochet started when I was little and I would sit and watch my grandmother — my Nonna — crochet beautiful afghans, tablecloths, baby clothes, and so much more. When I was 9 years old she gave me my own hook — which I still have now, over 30 years later — and taught me how to crochet. And I have been crocheting ever since! From trying new patterns to designing my own, I always have a crochet project stashed in my bag.
My most recent crochet accomplishments include receiving a Masters of Advanced Stitches & Techniques from CGOA, as well as having my work featured in Simply Crochet, Crochet!, and Inside Crochet Magazines. I also have a BA in English Literature and over 15 years experience in publishing and corporate communications. I have extensive freelance experience writing, editing, proofreading, and typesetting for academic, medical, scientific, corporate, and consumer markets. I have been published in For the Bride magazine (Winter 1997) and have also edited weekly columns in Woman's World magazine.
But enough about me … grab a cup of tea, look around, and hopefully you'll find some crochet inspiration throughout these pages. And I would love to hear what you're working on too. Feel free to leave me a comment, drop me an e-mail at [email protected], or show off a photo of your latest creation in my Facebook group.
Happy hooking!

Whatever you do, work at it with all your heart,
as working for the Lord, not for men.
— Colossians 3:23 (NIV)
Every good and perfect gift is from above,
coming down from the Father of the heavenly lights,
who does not change like shifting shadows.
— James 1:17 (NIV)
Featured in …
© 2011-2019 by Petals to Picots.
I love being able to share my ideas and projects, and I love when others love them enough to want to share them too! If you would like to share my patterns or projects, please refer to my Terms of Use for copyright details.
Additional Links:
Privacy Policy
Disclosure Statement